Are You One Of Jay's Kids? The Complete Bizarre Sessions 1990-94
Screamin' Jay Hawkins
Are You One Of Jay's Kids? The Complete Bizarre Sessions 1990-94
Screamin' Jay Hawkins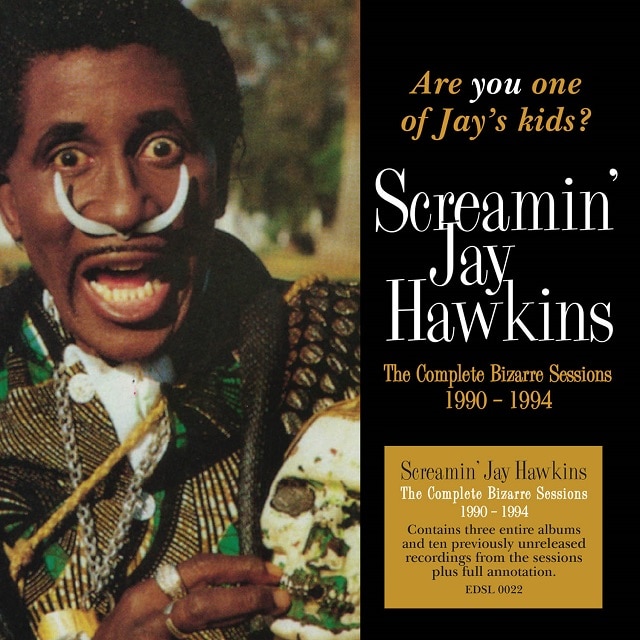 Release information
Release information
Label: Edsel
• Format: CD
• Date: 18/05/2018
Cat#: EDSL0022
• Barcode: 740155722234
• Genre: Pop, Rock
Track Listing
Is You Is Or Is You Ain't My Baby
I Feel Alright
I Put A Spell On You (Dance Version)
I Hear You Knockin'
Heartattack And Vine
Ignant And Shit
Swamp Gas
Voodoo Priestess
Ice Cream Man
I Want Your Body
Ol' Man River
Strokin'
My Best Friend's Girl
Another Pain
Strange
I Don't Know
Who's Been Talkin'
I Believe
Stone Crazy
Last Saturday Night
Call The Plumber
I Wanna Know
Sherilyn Fenn
Late Night Hawkins
On The Job
I Am The Queen
Somethin' Funny Goin' On
I Am The Cool
Whistling Past The Graveyard
Rock The House
Amy Fisher, Part 1
Scream The Blues
Brujo
You Make Me Sick
Amy Fisher, Part 2
Give It A Break
When You Walked Out The Door
Fourteen Wives
Amy Fisher, Part 3
Upsettin' Me
Make You Mine
Just For You
Shut Your Mouth When You Sneeze
Clam Bake
About this release
The legend that was Screamin' Jay Hawkins needs little introduction. He is probably most famous for writing and recording the original version of "I Put A Spell On You", covered with great success by Nina Simone, Alan Price, Creedence Clearwater Revival, Annie Lennox, Bryan Ferry, Arthur Brown, Bette Midler and many more.
This release contains the three fabulous albums he made for the Bizarre label between 1990 and 1994 (and released by Demon in Europe): "Black Music For White People", "Stone Crazy" and "Somethin' Funny Goin' On". Also included are ten previously unreleased recordings from the original album sessions. The booklet features the full story of how the albums came about.
In 1993 Jay's version of Tom Waits' "Heartattack And Vine" (on CD 1) was used for a Levi's ad – the single release reached number 42 in the UK charts, before Tom Waits managed to have both the ad and single withdrawn! "I Am The Cool" (on CD 2) is the soundtrack to the current Thomas Cook ad in the UK.