Anutha Zone + Duke Elegant
Dr John
Anutha Zone + Duke Elegant
Dr John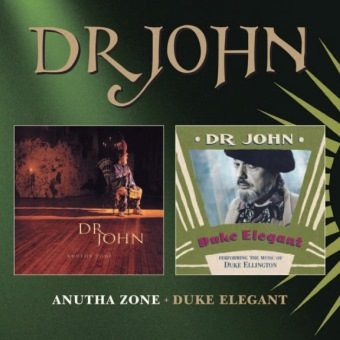 Release information
Release information
Label: Edsel
• Format: CD
• Date: 16/02/2015
Cat#: EDSK7076
• Barcode: 740155707637
• Genre: Blues, Jazz, Pop
Track Listing
Zonata
Ki Ya Gris Gris
Voices In My Head
Hello God
John Gris
Party Hellfire
I Don't Wanna Know
Anutha Zone
I Like Ki Yoka
The Olive Tree
Why Come
Soulful Warrior
The Stroke
Sweet Home New Orleans
On The Wrong Side Of The Railroad Tracks
I'm Gonna Go Fishin'
It Don't Mean A Thing (If It Ain't Got That Swing)
Perdido
Don't Get Around Much Anymore
Solitude
Satin Doll
Mood Indigo
Do Nothin' 'Til You Hear From Me
Thing's Ain't What They Used To Be
Caravan
Flaming Sword
About this release
By the end of the 90s, Dr John was again embracing the mysterious bubbling gumbo of his Gris-Gris era, which was music to the ears of a generation of younger British musicians such as Paul Weller (who had covered "I Walk On Gilded Splinters" in 1996), Gaz Coombes of Supergrass and Jason Pierce of Spiritualized. While Pierce is credited with producing two tracks here, the lion's share of Anutha Zone was helmed by UK producer legend John Leckie. Although much of the album was recorded in New York in 1998, six tracks were recorded at Abbey Road, with guest appearances from the UK stars above.
The following year saw Dr John pay his respects to the music of Duke Ellington – like he says: "Doesn't sound like these tunes were written by a hundred year-old cat, but they were. You want to know the ticket to immortality, write a bunch of tunes that people keep on singin' and playin'".
The package includes a slipcase and the 24 page booklet is fully annotated by Paul Myers.