Another Big Idea: 1996-2015 (Amazon Exclusive Signed Edition)
Heaven 17
Another Big Idea: 1996-2015 (Amazon Exclusive Signed Edition)
Heaven 17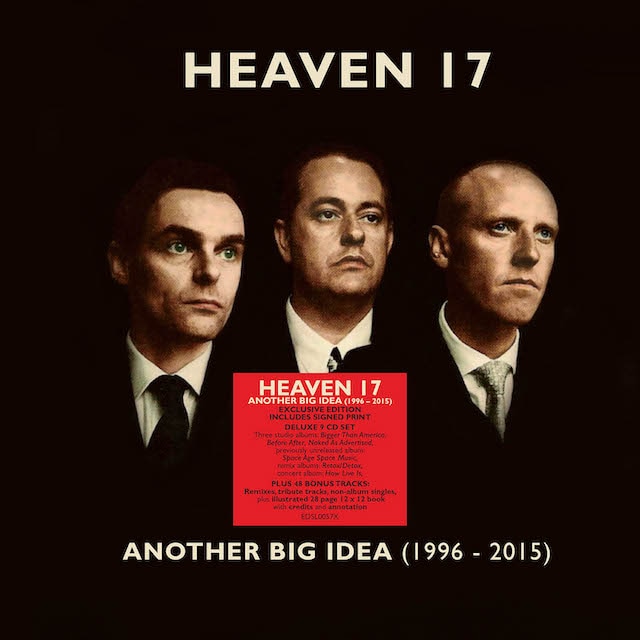 Release information
Release information
Label: Edsel
• Format: CD
• Date: 20/03/2020
Cat#: EDSL0057
• Barcode: 740155725730
• Genre: Pop, Rock
Sub Genre: New Wave, Synth Pop
Track Listing
Dive
Designing Heaven
We Blame Love
Another Big Idea
Freak!
Bigger Than America
Unreal Everything
The Big Dipper
Do I Believe?
Resurrection Man
Maybe Forever
An Electronic Prayer
Bigger Than America [version]
Designing Heaven [Radio Mix]
We Blame Love [Gregorio's Mix]
Designing Heaven [Lloyd-Wright Mix] [Motiv-8's Radio Mix]
We Blame Love [Spacebaby Mix]
Theme From The Unreal Everything
Let Me Go [Rob Playford Remix]
Let's All Make A Bomb [Adrian Sherwood Remix]
Geisha Boys & Temple Girls [Freddie Fresh Club Remix]
We Live So Fast [DJ Suv Remix]
Come Live With Me [Mulu Remix]
At The Height Of The Fighting [The Steve Hillier Project Remix]
Crushed By The Wheels (Of Industry) [Ski Remix]
Play To Win [M@krohart (Phillip Erb & Mark Rutherford) Remix]
Let's All Make A Bomb [Geek Remix]
Geisha Boys & Temple Girls [Sector (Kevin Francis) Mix]
And That's No Lie [Steve D'Agostino Remix]
Let Me Go [Ashley Beedle's Modern Travel Dub Mix]
Brothers & Sisters (Fascist Groove Thang) [Michael Lange Remix]
Temptation [Rhythm Masters Vocal Mix]
At The Height Of The Fighting [Cisserio (Chris Tool & Simon Wilde) Remix]
Penthouse And Pavement [Ruff Driverz Remix]
Fascist Groove Thang [Tinman Vocal Mix]
We Live So Fast [Skelly Mix for Ripe Productions]
Geisha Boys & Temple Girls [Freddie Fresh Mix – Radio Mix]
Temptation [Future/Past Disco (Kirk Degiorgio/As One) Dub Mix]
Penthouse & Pavement [Disco Central (Ben Mitchell & Can Can Studios) Mix]
Designing Heaven [Giorgio Moroder's Subterranean 12"]
With This Ring (Let Me Go) [Molella & Phil Jay Present Heaven 17 Meets Fast Eddie]
Designing Heaven [Motiv-8's Vocal 12"]
We Blame Love [Matt Darey Dub Mix]
With This Ring (Let Me Go) [Extended Mix]
Designing Heaven [Rodgers Mix] [James Reynold's Vocal 12"]
We Blame Love [Instrumental Extended Mix]
With This Ring (Let Me Go) [Disco Fire Mix]
Designing Heaven [Le Corbusier Mix] [Motiv-8's Dub 12]
Temptation [Rhythm Masters Vocal Mix] [Radio Edit]
Designing Heaven [Stark Mix] [Gregorio's 12"]
We Blame Love [Instrumental Mix]
With This Ring (Let Me Go) [Kay Cee Remix]
Designing Heaven [Trans European Heaven]
With This Ring (Let Me Go) [Disco Funky Mix]
Designing Heaven [Den Himmel Designen]
Fascist Groove Thing
Crushed By The Wheels Of Industry
We Blame Love
Come Live With Me
Freak!
Let Me Go
Let's All Make A Bomb
Penthouse And Pavement
Designing Heaven
Temptation
Being Boiled
Holiday
With Or Without You
Sign O' The Times
Holiday [X-Tended Dance Mix]
I'm Gonna Make You Fall In Love With Me
Hands Up To Heaven
The Way It Is
Freedom From Love
Don't Fear The Reaper
Into The Blue
Deeper And Deeper
What Would It Take
Someone For Real
Are You Ready?
Hands Up To Heaven [Radio Edit]
I'm Gonna Make You Fall In Love With Me [Qubiq Radio Edit]
Don't Fear The Reaper [Radio Edit]
Hands Up To Heaven [Spray's Mega Dance Radio Edit]
I'm Gonna Make You Fall In Love With Me [Qubiq Tribal Back To 5 And 6 Mix]
Hands Up To Heaven [Qubiq Hands Up Tribal Vocal Mix]
Hands Up To Heaven [Spray Mix]
I'm Gonna Make You Fall In Love With Me [DonQuiBeats Remix]
Hands Up To Heaven [Canal Pop Mix]
I'm Gonna Make You Fall In Love With Me [Lovesick Dub]
Hands Up To Heaven [DJ Futuro Mix]
I'm Gonna Make You Fall In Love With Me [T-Total's Secret Stalker Mix]
Hands Up To Heaven [DJ BC Mix]
I'm Gonna Make You Fall In Love With Me [Dimensional Love Machine Remix]
Hands Up To Heaven [Astromill Mix]
I'm Gonna Make You Fall In Love With Me [Electroluv's Remix]
Hands Up To Heaven [Qubiq DJ Edit]
I'm Gonna Make You Fall In Love With Me [Atom's Ostwald Process Dub]
Being Boiled
Geisha Boys And Temple Girls
Temptation [featuring Billie Godfrey]
Penthouse And Pavement
Party Fears Two
Don't Fall
(We Don't Need This) Fascist Groove Thang
We Live So Fast
Empire State Human
Penthouse And Pavement [live]
(We Don't Need This) Fascist Groove Thang [live]
Let Me Go [exclusive acoustic version]
Rocket Man
Rocket Man [12" remix]
Hands Up To Heaven [Qubiq Hands Up Tribal Dub Mix]
Overture
Post Apocalypse
Soft Power Landscape
Track 4
Funk Experiment
Abandoned Malls
Fast Groove 1
Unknowable
Mission Creep
Thinking Machine
New Chase
Liquid Syncopation
About this release
This deluxe 9 CD set contains three studio albums (Bigger Than America, Before After, Naked As Advertised), a previously unreleased album (Space Age Space Music), the remix albums Retox/Detox, the concert album How Live Is, plus 48 bonus tracks (remixes, tribute tracks, non-album singles) and an illustrated 12×12 book with credits and annotation based on brand new interviews with the band.
In 1988, after their fifth album for the Virgin label, Martyn Ware, Ian Craig Marsh and Glenn Gregory decided to rest Heaven 17. In 1996, after various British Electric Foundation and individual projects, the ensemble re-grouped to record the first album in this set, "Bigger Than America". The album featured two singles "Designing Heaven" and "We Blame Love", both of which would see many remixes released, and 1998's 2CD release "Retox/Detox" featured nothing but remixes.
In 1998, Heaven 17 decided to play live for the first time, and a concert was recorded and released in 1999 as "How Live Is". Around this time the band also recorded cover versions of songs by Madonna, U2 and Prince for Cleopatra Records tribute albums. A brand new studio album, "Before After", the last to feature Ian Craig Marsh, was released in 2005 and (aside from a cover version of "Don't Fear The Reaper") featured the singles "I'm Gonna Make You Fall In Love With Me" and "Hands Up To Heaven", both of which attracted many remixes.
In 2008 "Naked As Advertised – Versions 08" featured new interpretations of Heaven 17 and Human League classics alongside a cover version of "Party Fears Two". This fully-annotated set ends with the previously unreleased instrumental album "Space Age Space Music". Recorded in 1998, the idea was to issue the album, and invite singers to record their own melody lines and lyrics. The concept was never realised….
Recommended titles