Andy Williams – The Cadence Albums
Andy Williams
Andy Williams – The Cadence Albums
Andy Williams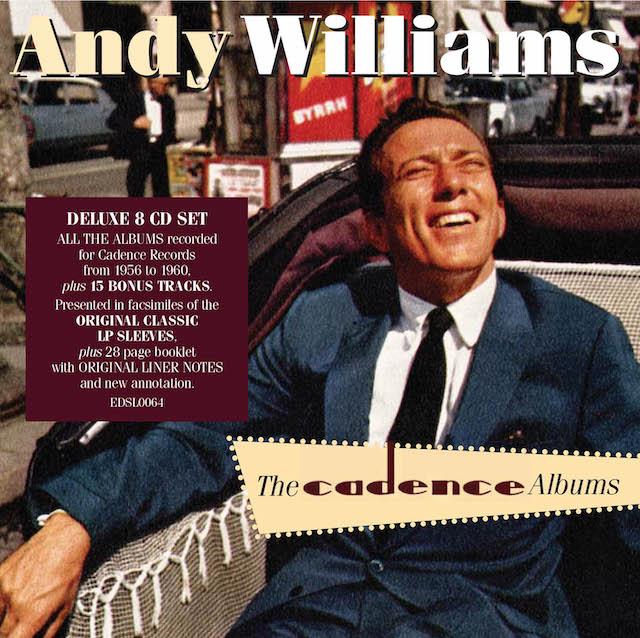 Release information
Release information
Label: Edsel
• Format: CD
• Date: 12/06/2020
Cat#: EDSL0064
• Barcode: 740155726430
• Genre: Easy Listening, Pop
Track Listing
Tonight
Meet Me Where They Play The Blues
Stay Just A Little While
Playing The Field
Impossible
Young Love
Picnic
An Old Piano Plays The Blues
Spring In Maine
All The Way Home
Lonely Love
Forbidden Love
Canadian Sunset
I Like Your Kind Of Love
Walk Hand In Hand
Lips Of Wine
Not Anymore
It Doesn't Take Very Long
Baby Doll
Butterfly
High Upon A Mountain
Stop Teasin' Me
Since I've Found My Baby
Straight From My Heart
Christmas Is A Feeling In Your Heart
The Wind, The Sand And The Star
Some Enchanted Evening
If I Loved You
Getting To Know You
This Nearly Was Mine
Bali Ha'i
I Have Dreamed
People Will Say We're In Love
Younger Than Springtime
I Whistle A Happy Tune
We Kiss In A Shadow
The Surrey With The Fringe On Top
Hello Young Lovers
Sail Along, Silvery Moon
Twilight Time
So Rare
Hawaiian Wedding Song
Blueberry Hill
Sweet Leilani
Love Letters In The Sand
It's All In The Game
Blue Hawaii
Be Mine Tonight
My Happiness
Near You
Are You Sincere
Promise Me, Love
Your Hand, Your Heart, Your Love
The House Of Bamboo
To You Sweetheart, Aloha
Blue Hawaii [alternate version]
I'll Weave A Lei Of Stars For You
Sweet Leilani [alternate version]
Moon Of Manakoora
The Hawaiian Wedding Song
Song Of The Islands
A Song Of Old Hawaii
Love Song Of Kalua
Beyond The Reef
Ka-Lu-A
Aloha 'Oe (Farewell To Thee)
You Don't Know What Love Is
In The Wee Small Hours Of The Morning
When Your Lover Has Gone
I'm So Lonesome I Could Cry
Gone With The Wind
Summer Love
Say It Isn't So
Unchained Melody
Autumn Leaves
Willow Weep For Me
I'm So Alone
Lonely Street
Lonely Street [single version
The Village Of Saint Bernadette
He's Got The Whole World In His Hands
Suddenly There's A Valley
Count Your Blessings
He
You'll Never Walk Alone
Our Lady Of Fatima
The Three Bells
Climb Ev'ry Mountain
Sweet Morning
I Believe
Look For The Silver Lining
Under Paris Skies
Let It Be Me
April In Paris
Mademoiselle De Paris
I Wish You Love
Domino
I Love Paris
Mam'selle
Comme Ci, Comme Ca
La Valse Des Lilas
Boum!
Au Revoir, Paris
Wake Me When It's Over
We Have A Date (Andy's Theme)
Do You Mind?
Dreamsville
(In The Summertime) You Don't Want My Love
Don't Go To Strangers
The Bilbao Song
How Wonderful To Know
About this release
Andy Williams signed to Cadence Records in December 1955 and recorded the eight albums in this box set ('Sings Steve Allen', 'Andy Williams', 'Sings Rodgers & Hammerstein', 'Two Time Winners', 'To You Sweetheart, Aloha', 'Lonely Street', 'The Village of St Bernadette' and 'Under Paris Skies') before he moved on to Columbia Records in 1961. Aside from 'Andy Williams' (a collection of singles), the albums all have a theme, from the songs of Steve Allen and Rodgers & Hammerstein, to Hawaii and Paris, via albums of religious songs and laments.
These early albums showcase Andy's peerless voice, demonstrating his ability to make any song his own. Featured are his first hit singles, "Canadian Sunset", "I Like Your Kind Of Love" and "Butterfly", while the 'Under Paris Skies' album features fabulous arrangements by a 27-year-old Quincy Jones.
Presented in facsimiles of the original classic 1950s and 60s album sleeves, the 111 track set also includes FIFTEEN BONUS TRACKS of non-album singles A- and B-sides. The 28 page booklet includes all the original liner notes from the sleeves, as well as annotation by Alan Robinson.
Recommended titles