Andy Williams – Gold
Andy Williams
Andy Williams – Gold
Andy Williams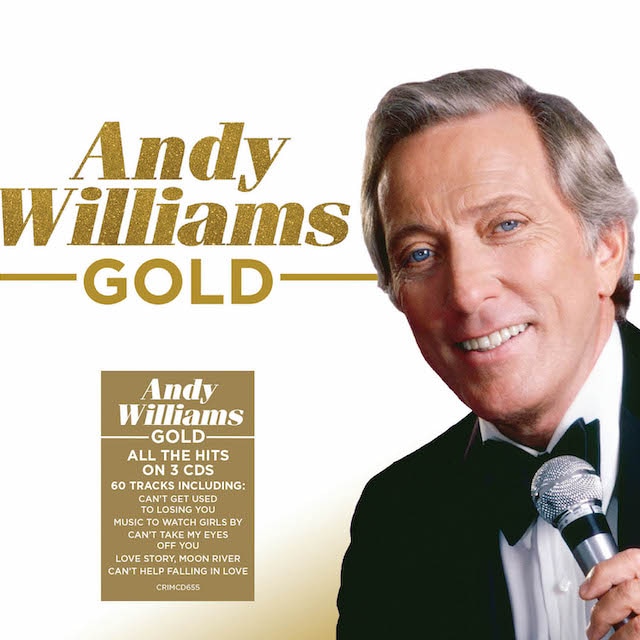 Release information
Release information
Label: Crimson Productions
• Format: CD
• Date: 10/01/2020
Cat#: CRIMCD655
• Barcode: 654378065521
• Genre: Easy Listening
Track Listing
CAN'T GET USED TO LOSING YOU
MUSIC TO WATCH GIRLS BY
SPEAK SOFTLY LOVE (LOVE THEME FROM "THE GODFATHER")
BATTLE HYMN OF THE REPUBLIC
THE IMPOSSIBLE DREAM (THE QUEST)
THE OTHER SIDE OF ME
A FOOL NEVER LEARNS
GETTING OVER YOU
STRANGER ON THE SHORE
DANNY BOY
ABRAHAM, MARTIN AND JOHN
FOR THE GOOD TIMES
RAINDROPS KEEP FALLIN' ON MY HEAD
IF YOU COULD READ MY MIND
MACARTHUR PARK
ON THE STREET WHERE YOU LIVE
THE FIRST TIME EVER (I SAW YOUR FACE)
ALONE AGAIN (NATURALLY)
YOU'VE GOT A FRIEND
UP, UP AND AWAY
CAN'T TAKE MY EYES OFF YOU
(WHERE DO I BEGIN) LOVE STORY
HAPPY HEART
HOME LOVIN' MAN
YOU LAY SO EASY ON MY MIND
A SUMMER PLACE
I'LL NEVER STOP LOVING YOU
IT'S SO EASY
QUIET NIGHTS OF QUIET STARS (CORCOVADO)
CHARADE
AIN'T IT TRUE
FLY BY NIGHT
HELP ME
HOPELESS
..AND ROSES AND ROSES
ALMOST THERE
BYE BYE BLUES
THE WONDERFUL WORLD OF THE YOUNG
WRONG FOR EACH OTHER
CAN'T TAKE MY EYES OFF YOU [with Denise Van Outen]
CAN'T HELP FALLING IN LOVE
SOLITAIRE
MOON RIVER
BORN FREE
MARIA [from the UA release "West Side Story"]
DAYS OF WINE AND ROSES
MAY EACH DAY
MORE AND MORE
IN THE SUMMERTIME
A TIME FOR US
DEAR HEART
DON'T YOU BELIEVE IT
HOLLY
IN THE ARMS OF LOVE
MORE
AVE MARIA
AMAZING GRACE
WHITE CHRISTMAS
THE LITTLE DRUMMER BOY
IT'S THE MOST WONDERFUL TIME OF THE YEAR
About this release
Andy Williams is one of the world's most successful recording artists, achieving huge success on both sides of the Atlantic throughout the 60s and 70s, scoring over 50 hit singles in the US and 21 in the UK. His long-running TV series "The Andy Williams Show" was top-rated in both the US and the UK throughout this period.
This sixty track 3CD set includes twenty-one UK Top 40 singles, from 1962 to 2002. Williams had eight UK Top 10 hits, including "Can't Get Used To Losing You",  "Can't Take My Eyes Off You" and "Can't Help Falling In Love" in the 60s, along with "Solitaire" and "(Where Do I Begin) Love Story" in the 70s. "Music To Watch Girls By" belatedly became a number 9 hit in 1999 when it was featured in a TV ad for Fiat, and in 2002 Andy hit the charts again with a re-recording of "Can't Take My Eyes Off You", a duet with Denise Van Outen.
Also featured are the classics "Moon River", "Happy Heart", "Battle Hymn Of The Republic", and "It's The Most Wonderful Time Of The Year", alongside his unique versions of songs like "The First Time Ever (I Saw Your Face)", "For The Good Times", "Born Free", "Maria" and "Raindrops Keep Falling On My Head".