Affection
Lisa Stansfield
Affection
Lisa Stansfield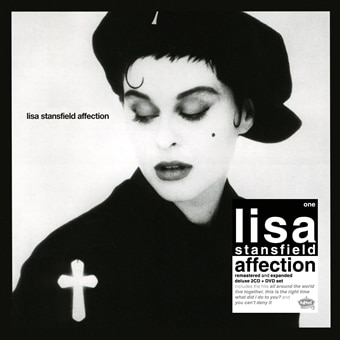 Release information
Release information
Label: Edsel
• Format: CD, DVD & Blu-ray
• Date: 10/11/2014
Cat#: EDSG8053
• Barcode: 740155805333
• Genre: Dance, Pop
Track Listing
This Is The Right Time
Mighty Love
Sincerity
The Love In Me
All Around The World
What Did I Do To You?
Live Together
You Can't Deny It
Poison
When Are You Coming Back?
Affection (Bonus Track)
Wake Up Baby (Bonus Track)
The Way You Want It (Bonus Track)
This Is The Right Time (Miles Ahead Mix)
All Around The World (Long Version)
My Apple Heart
Lay Me Down
Something's Happenin'
Sing It
This Is The Right Time (Extended Version)
All Around The World (Around The House Mix)
Live Together (Extended Version)
What Did I Do To You? (Mark Saunders Remix)
You Can't Deny It (Extended Version)
The Love In Me (Extended Version)
This Is The Right Time (Kick Mix)
All Around The World (Runaway Love Mix)
Live Together (Home Sweet Home Mix)
People Hold On – with Coldcut
This Is The Right Time
All Around The World
Live Together
What Did I Do To You?
You Can't Deny It
This Is The Right Time (US Version)
This Is The Right Time
Mighty Love
You Can't Deny It
Love In Me
Sincerity
Poison
Live Together
Good Morning Heartache
What Did I Do To You?
All Around The World
People Hold On
Affection
The Way You Want It
2014 Interview with Mark Goodier
About this release
Lisa's 1989 debut album Affection marked the arrival of a defining voice in British soul, meeting with major critical acclaim and over five million sales worldwide. The unforgettable #1 All Around The World features alongside the club classics This Is The Right Time and What Did I Do To You?, the uplifting Live Together and the US hit You Can't Deny It.
This remastered Deluxe Edition is expanded to feature rare tracks and sought-after 12″ mixes plus videos, live footage and a specially recorded interview with Lisa. The 28-page casebound book features photos, memorabilia, lyrics and brand new sleeve notes.
The DVD features promo videos (tracks 1-7), Live! All Around the World; Live In Birmingham 1990 (tracks 8-20) and an interview with Mark Goodier.