Action Packed (Digital)
The Action
Action Packed (Digital)
The Action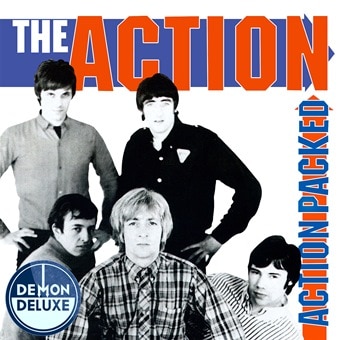 Release information
Release information
Label: Edsel
• Format: Digital
• Date: 21/04/2014
Cat#: 5032698674329
• Genre: Rock
Sub Genre: Folk Rock
Track Listing
Land Of 1000 Dances
In My Lonely Room
Harlem Shuffle
I Love You (Yeah!)
I'll Keep On Holding On
Hey Sah-Lo-Ney
Just Once In My Life
Wasn't It You
Baby You've Got It
Since I Lost My Baby
Never Ever
Twenty Fourth Hour
The Place
Come On, Come With Me
The Cissy
Something Has Hit Me
Shadows And Reflections
Mine Exclusively (On Television & BBC Radio 1966-1967) (Remastered)
Baby You've Got It (On Television & BBC Radio 1966-1967) (Remastered)
Take Me In Your Arms (Rock Me A Little While) (On Television & BBC Radio 1966-1967) (Remastered)
I See You (On Television & BBC Radio 1966-1967) (Remastered)
Shadows And Reflections (On Television & BBC Radio 1966-1967) (Remastered)
Meeting Over Yonder (Live at The Boston Arms, London 1998) (Remastered)
The Monkey Time (Live at The Boston Arms, London 1998) (Remastered)
Baby Don't You Do It (Live at The Boston Arms, London 1998) (Remastered)
In My Lonely Room (Live at The Boston Arms, London 1998) (Remastered)
I Love You (Yeah!) (Live at The Boston Arms, London 1998) (Remastered)
Girl (Why You Wanna Make Me Blue) (Live at The Boston Arms, London 1998) (Remastered)
Ooo Baby Baby (Live at The Boston Arms, London 1998) (Remastered)
Crazy About You Baby (Live at The Boston Arms, London 1998) (Remastered)
Heatwave (Live at The Boston Arms, London 1998) (Remastered)
People Get Ready (Live at The Boston Arms, London 1998) (Remastered)
The Memphis Train (Live at The Boston Arms, London 1998) (Remastered)
Since I Lost My Baby (Live at The Boston Arms, London 1998) (Remastered)
Harlem Shuffle (Live at The Boston Arms, London 1998) (Remastered)
Baby You've Got It (Live at The Boston Arms, London 1998) (Remastered)
I'll Keep Holding On (Live at The Boston Arms, London 1998) (Remastered)
Land Of 1000 Dances (Live at The Boston Arms, London 1998) (Remastered)
About this release
Considered one of the great Mod bands of their generation, The Action have continued to have a dedicated fan base across many different genres, mod, soul, rock and pop.
This collection brings together all of their singles (never collected on an album before this original release), along with 21 bonus tracks.
The studio tracks were all produced by legendary George Martin, most famous for his work with The Beatles, who signed them to his own Air (London) Production Company, where they perfected their harmonies and style, shown in the first single, Land Of 1000 Dances.
This collection features:
• 17 tracks from the original 'Action Packed' release
• 5 remastered tracks from their appearances on BBC Television and Radio between 1966-1967
• 16 remastered tracks from their live performance at the Boston Arms