Terry Farley Presents Acid Thunder
Various Artists
Terry Farley Presents Acid Thunder
Various Artists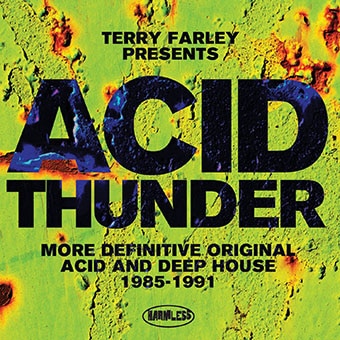 Release information
Release information
Label: Edsel
• Format: CD
• Date: 01/09/2014
Cat#: HURTXCD129
• Barcode: 5014797021297
• Genre: Dance
Track Listing
It's U (Original 12"" Vocal Mix) - E.S.P.
What You Make Me Feel (Original 12"" Fierce Mix) - Liz Torres ft Kenny Jammin' Jason
Open Our Eyes (Original 12"" Celestial Club Mix) - Marshall Jefferson Presents Truth
To The Motherland (Original 12"" Club Mix) - Steve Poindexter Presents Kareem Smith
All Dis Music (Original 12"" Club Mix) - Romance
Can't Get Enough (Original 12"" Club Mix) - Liz Torres feat Edward Crosby
I Can't Stay Away (Original 12"" Ron Hardy Club Mix) - Ragtyme ft Byron Stingily
Whatever Turns You On (Original 12"" Dub Mix) - Mario Reyes
It's Magic (Original 12"" Club Mix) - Laurent X
Energy (Original Album Only Club Mix) - Robot & The DJs
We Are Unity (Original 12"" Radio Mix) - Marshall Jefferson presents Umosia
Night Moves (Original 12"" Club Mix) - Rickster
Let The Music (Use You) (Original 12"" Club Mix) - The Night Writers
It's Alright (Original 12"" House Mix) - Sterling Void & Paris Brightledge
How Far I Go (Original 12"" House Mix) - Peter Black
You Used To Hold Me (Original 12"" Kenny's Mix) - Ralphi Rosario feat Xavier Gold
Shake Your Body (Original 12"" Club Mix) - Jeanette Thomas
Learn To Love (Original 12"" House Of Love Mix) - Paris Brightledge
In The City (Original 12"" Club Mix) - Master C&J
Let's Move (Original 12"" Radio Mix) - E.S.P.
Don't Wanna Go (Original 12"" Mike Dunn's Vocal Mix) - Sterling Void
Let There Be House (Original 12"" Club Mix) - Bobby Konders
Face It (Original 12"" Club Mix) - Master C&J
I Want You (Original 12"" Dash Riprock Mix) - Hex Complexx
Somebody New (Original 12"" MK's Club Mix) - MK
NB Battle Track (Original 12"" Club Mix) - Steve Poindexter Presents Kareem Smith
Risque Madness (Original 12"" Club Mix) - Risque III
Let Us Have Love (Step By Step) (Original 12"" 'Step By Acid' Club Mix) - James ""Jack Rabbit"" feat Pam White
Cut By A Laser (Original 12"" Club Mix) - Crystalite feat Kristen
Essence Of A Dream (Original 12"" Club Mix) - Risque III
Mind Over Matter (Original 12"" Club Mix) - Terrance McDonald
Kill Yourself Dancing (Original 12"" Club Mix) - Razz feat Matt Warren & Ralphi Rosario
Personal Problem (Original 12"" Club Mix) - MD111
Take Me Higher (Original 12"" 'Ultimate Acid' Mix) - Nexus 6
Lookin' For Excitement (Original 12"" Club Mix) - D.J. Rush presents Knee Deep
Godfather Of House (Original 12"" Club Mix) - House People
Only The Strong Survive (Original 12"" Club Mix) - Frankie Knuckles
Music Is The Key (Original 12"" House Key Mix) - J. M. Silk
It's Me (Original 12"" K. Alexi Deep Mix) - Club MCM
When I Hear The Music (Original 12"" Club Mix) - Mitchbal And The Housemaster
In The Mix (Original 12"" Fast Eddie Mix) - The Mix Masters feat M.C. Action
Jack Me - Frankie
In This House We Jack (Original Album)
Freedom (Original 12"" Factory Mix) - The Children
Fantasize Me (Original 12"" Club Mix) - Pleasure Pump
Face The Nation (Original 12"" Club Mix) - MD111
Nervous Acid (Original 12"" Club Mix) - Bobby Konders
J'Adore Danser (Original 12"" Club Mix) - Mark Imperial
The Brutal House (Original 12"" House Mix) - Nitro Deluxe
Persia (Original 12"" Club Mix) - Modern Mechanical Music
When We Used To Play (Original 12"" Club Mix) - Blake Baxter
Time To Jack (Original 12"" House Mix) - Chip E
!The Poke! (Original 12"" 'Your Turn 2 Work Me Mix' Mix) - The Endless Poker's
Message 2 Ron (Original 12"" MJ's Mixx) - Club MCM & Marshall Jefferson
Serve It Up (Original Album Version) - Sterling Void
Do The Do (Original 12"" Got 2 Mix) - Marshall Jefferson Presents Dancing Flutes
People Of All Nations (Original 12"" Club Mix) - Shawn Christopher
Promised Land (Original 12"" Club Mix) - Joe Smooth
About this release
Following the colossal success of the Terry Farley compiled "Acid Rain", we're proud to announce the incredible follow-up and worthy companion, "Acid Thunder".
Once again compiled by House expert Terry Farley, "Acid Thunder" continues the journey of its predecessor with another collection of 59 incredibly influential House Music releases from the Vintage era of the sound, namely, 1985-1991. In addition, we are delighted to have finally managed to unearth 25 key tracks from one of House Music's most influential labels, D.J. International. As with "Acid Rain", all tracks have been immaculately re-mastered and have never sounded better.
This collection also contains numerous tracks which have never been on compilations or available since their original release. Sleeve-notes this time are courtesy of Jacob Arnold, founder and curator of the hugely influential House Music website, Gridface. Once again, we have included a 32 page booklet containing all scans plus photos, flyers and other memorabilia from the archives of Terry Farley and Jacob Arnold.
All 5 CDs and the booklet are within a hard-wearing clamshell box which will sit perfectly with "Acid Rain" for the collectors out there.