Access All Areas – Uriah Heep: Live In Moscow (Vinyl Picture Disc)
Uriah Heep
Access All Areas – Uriah Heep: Live In Moscow (Vinyl Picture Disc)
Uriah Heep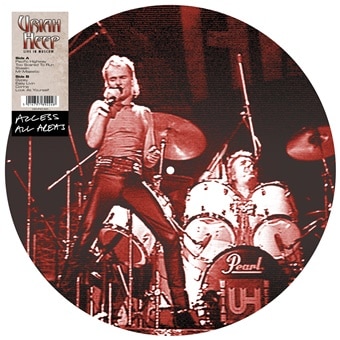 Release information
Release information
Label: Demon Records
• Format: Vinyl
• Date: 05/02/2016
Cat#: DEMREC85
• Barcode: 5014797892248
• Genre: Rock
Sub Genre: Hard Rock & Metal
Track Listing
Pacific Highway
Too Scared To Run
Stealin'
Mr. Majestic
Gypsy
Easy Livin'
Corina
Look At Yourself
About this release
Demon Records & Access All Areas are excited to announce a special range of limited edition Picture Discs from the illustrious AAA catalogue.
Uriah Heep were pioneers in taking music to the rock-starved former Iron Curtain countries. And where better to start than in the heart of the Soviet Union? The band wowed Moscow's Olympic Stadium in December 1987, playing ten consecutive nights and proving Mick Box's merry men – still active today – rank alongside Zeppelin, Purple and Sabbath as global hard-rock trailblazers.
We've hand-picked some of the hardest rocking and most sort after performances and cut them to limited edition heavyweight picture discs. Each record will be limited to 500 copies worldwide and feature the hits and soaring moments from the live recordings in these very special collectors items.
Extra information about this release