Access All Areas – Steve Hackett (Vinyl Picture Disc)
Steve Hackett
Access All Areas – Steve Hackett (Vinyl Picture Disc)
Steve Hackett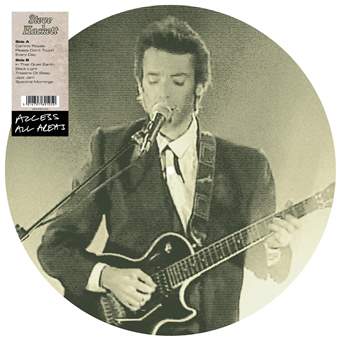 Release information
Release information
Label: Demon Records
• Format: Vinyl
• Date: 30/10/2015
Cat#: DEMREC33
• Barcode: 5014797891050
• Genre: Blues, Rock
Track Listing
Camino Royale
Please Don't Touch
Every Day
In That Quiet Earth
Black Light
Theatre Of Sleep
Jazz Jam
Spectral Mornings
About this release
Demon Records & Access All Areas are excited to announce a special range of limited edition Picture Discs from the illustrious AAA catalogue.
Ex-Genesis guitarist Hackett's single-minded pursuit of excellence has inspired Eddie Van Halen, no less. And this 1990 show cherrypicks from the catalogue Steve established since leaving the band in 1977, choosing just one Genesis highlight, 'In That Quiet Earth'. Solo standouts include 'Please Don't Touch' and 'Spectral Mornings', title tracks of his second and third albums from 1978 and '79, while 'Theatre Of Sleep' would not appear on record until 1993. His band – Ian Ellis on bass, Julian Colbeck on keyboards and Fudge Smith on drums with brother John Hackett contributing flute, guitar and bass pedals – impress throughout.
We've hand-picked some of the hardest rocking and most sort after performances and cut them to limited edition heavyweight picture discs. Each record will be limited to 500 copies worldwide and feature the hits and soaring moments from the live recordings in these very special collectors items.
Extra information about this release