Access All Areas – Jah Wobble
Jah Wobble
Access All Areas – Jah Wobble
Jah Wobble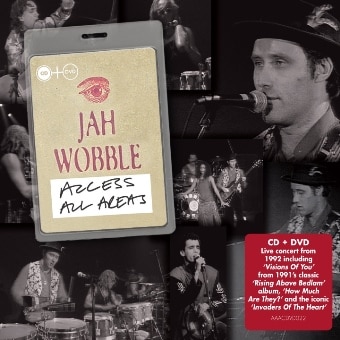 Release information
Release information
Label: Access All Areas - Jah Wobble
• Format: CD, Digital,
• Date: 08/06/2015
Cat#: AAACDVD022
• Barcode: 5014797892033
• Genre: Alternative
Track Listing
About this release
John Wardle, alias Jah Wobble, came to fame in the late Seventies at the age of 20 as bass player for John Lydon's first post-Sex Pistols outfit, Public Image Limited, following this with a series of collaborations with members of German avant gardists Can and U2 guitarist the Edge. He plays on today.
He quit the biz and spent time in the Eighties driving trains on the London Underground. Happily, creativity won out and this show from 1992 is from one of a series of charity shows co-ordinated by New Musical Express at London's Town & Country Club under the banner Viva Eight. Highlights include 'Visions Of You' from 1991's classic 'Rising Above Bedlam' album, 'How Much Are They?' and the iconic 'Invaders Of The Heart' from which his group take their name. The performance includes percussion and exotic dancing, and is an audio-visual treat.
Extra information about this release