Access All Areas – Glen Campbell
Glen Campbell
Access All Areas – Glen Campbell
Glen Campbell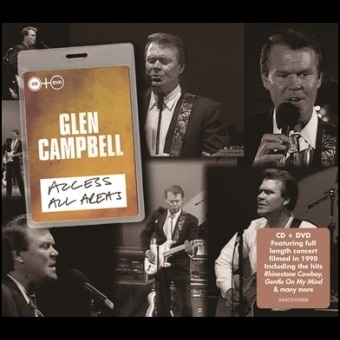 Release information
Release information
Label: Edsel
• Format: CD, Digital, DVD & Blu-ray
• Date: 19/01/2015
Cat#: AAACDVD009
• Barcode: 5014797891630
• Genre: Country, Rock
Track Listing
Rhinestone Cowboy
Galveston
By The Time I Get To Phoenix
Try A Little Kindness
Wichita Lineman
She's Gone Gone Gone
Walkin' In The Sun
On A Good Night
True Grit
The Hand That Rocks The Cradle
I Remember You
Highwayman
Streets Of London
Mull Of Kintyre
Gentle On My Mind
Rhinestone Cowboy (Live - DVD Video)
Galveston (Live - DVD Video)
By The Time I Get To Phoenix (Live - DVD Video)
Try A Little Kindness (Live - DVD Video)
Wichita Lineman (Live - DVD Video)
She's Gone Gone Gone (Live - DVD Video)
Walkin' In The Sun (Live - DVD Video)
On A Good Night (Live - DVD Video)
True Grit (Live - DVD Video)
The Hand That Rocks The Cradle (Live - DVD Video)
I Remember You (Live - DVD Video)
Highwayman (Live - DVD Video)
Streets Of London (Live - DVD Video)
Mull Of Kintyre (Live - DVD Video)
Gentle On My Mind (Live - DVD Video)
About this release
Often considered a country singer, Arkansas-born Glen Campbell made music over five separate decades in a variety of styles.
This 1990 performance at the Dome in Doncaster, backed by the Jeff Dayton Band, reflects Campbell's unique career from the early Sixties on, kicking off with US chart-topper 'Rhinestone Cowboy' and ending with the Grammy-winning 'Gentle On My Mind'.
It majors on his work with songwriter Jimmy Webb with 'Galveston', 'By The Time I Get To Phoenix', 'Highwayman' and 'Wichita Lineman'. His second US chart topper, 'Southern Nights' by Allen Toussaint, is also featured, while a Beach Boys medley celebrates his time as a musician with that band. Alzheimer's has now ended his active music-making, but Glen Campbell's reputation lives on in songs like those collected here.
Extra information about this release