Access All Areas – Belinda Carlisle (Digital)
Belinda Carlisle
Access All Areas – Belinda Carlisle (Digital)
Belinda Carlisle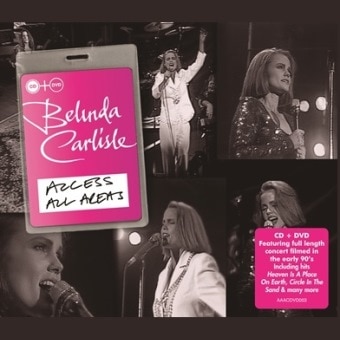 Release information
Release information
Label: Edsel
• Format: CD, Digital
• Date: 19/01/2015
Cat#: AAACDVD003
• Barcode: 5014797891579
• Genre: Pop
Sub Genre: Classic Pop
Track Listing
Runaway Horses
Summer Rain
(We Want) The Same Thing
Whatever It Takes
Mad About You
Circle in the Sand
Nobody Owns Me
I Get Weak
Valentine
La Luna
Vision of You
Leave a Light On
Heaven is a Place on Earth
Our Lips are Sealed
We Got the Beat
World Without You
Shades of Michaelangelo
Runaway Horses (Live - DVD Video)
Summer Rain (Live - DVD Video)
(We Want) The Same Thing (Live - DVD Video)
Whatever It Takes (Live - DVD Video)
Mad About You (Live - DVD Video)
Circle in the Sand (Live - DVD Video)
Nobody Owns Me (Live - DVD Video)
I Get Weak (Live - DVD Video)
Valentine (Live - DVD Video)
La Luna (Live - DVD Video)
Vision of You (Live - DVD Video)
Leave a Light On (Live - DVD Video)
Heaven is a Place on Earth (Live - DVD Video)
Our Lips are Sealed (Live - DVD Video)
We Got the Beat (Live - DVD Video)
World Without You (Live - DVD Video)
Shades of Michaelangelo (Live - DVD Video)
About this release
Former lead singer of the Go-Gos and international solo star Belinda Carlisle dazzles in this full-length concert from her early -Nineties heyday.
It includes transatlantic solo chart-topper 'Heaven Is A Place On Earth' plus US Top 10 entries 'Mad About You', 'I Get Weak' and 'Circle In The Sand' to present the full picture of a California girl whose stage presence shows today's stars a thing or two.
Her seven-piece band, including two backing vocalists and cello, do full justice to Belinda's hit-packed career, while costume changes and showmanship ensure this remains a riveting spectacle to the final curtain.
Extra information about this release