Access All Areas – Asia (Vinyl Picture Disc)
Asia
Access All Areas – Asia (Vinyl Picture Disc)
Asia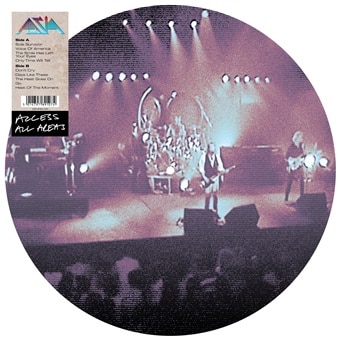 Release information
Release information
Label: Demon Records
• Format: Vinyl
• Date: 30/10/2015
Cat#: DEMREC35
• Barcode: 5014797891074
• Genre: Rock
Track Listing
Sole Survivor
Voice Of America
The Smile Has Left Your Eyes
Only Time Will Tell
Don't Cry
Days Like These
The Heat Goes On
Go
Heat Of The Moment
About this release
Demon Records & Access All Areas are excited to announce a special range of limited edition Picture Discs from the illustrious AAA catalogue.
Rock history records Asia as the first supergroup of the Eighties, a leviathan that sold more than six million copies of its eponymous first album in little more than a year thanks to a combination of classic radio-friendly pop songs and virtuoso musicianship. Founder members John Wetton, drummer Carl Palmer and keyboardist Geoff Downes link with guitarist Pat Thrall to present a live greatest hits, from the three major singles – 'Heat Of The Moment', 'Only Time Will Tell' and 'Sole Survivor' – from their first album through to later highlights 'Go' and 'Voice Of America'.
We've hand-picked some of the hardest rocking and most sort after performances and cut them to limited edition heavyweight picture discs. Each record will be limited to 500 copies worldwide and feature the hits and soaring moments from the live recordings in these very special collectors items.
Extra information about this release