A Place Where I Can Go
Kiki Dee
A Place Where I Can Go
Kiki Dee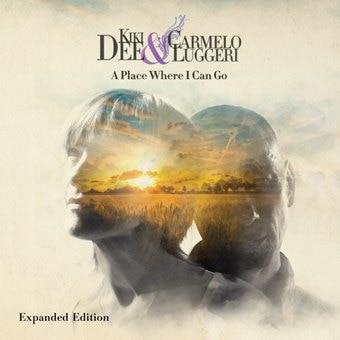 Release information
Release information
Label: Edsel
• Format: CD
• Date: 25/05/2015
Cat#: EDSK7095
• Barcode: 740155709532
• Genre: Pop, Rock
Track Listing
Lay Your Wisdom Down
Keep The Sun (On Everything I Do)
She's Smiling Now (A Mother's Song)
Sweeter Rain (Prelude)
Sweeter Rain
Sidesteppin' (With A Soulman)
Horses
Forward Motion
Curve To Your Heart
A Place Where I Can Go
In The Middle Of This Sound (Reprise)
My Love
Ain't That Peculiar?
Ella
Sidesteppin' With A Soulman [radio mix]
On The Way
Here For All Time
You Won't See Me Crying
Colour Me Blue
Kiss Your World Goodbye
I've Got The Music In Me
I Still Haven't Found What I'm Looking For
This Town
Wild As Can Be
About this release
Singing legend Kiki Dee teamed up with singer/songwriter Carmelo Luggeri back in 1995 for a live album. Since then, they have recorded three studio albums – Where Rivers Meet(1998), The Walk Of Faith (2005) and A Place Where I Can Go (2013) on their own Spellbound Recordings imprint.
Following on from our releases of Kiki's four Rocket Records albums earlier in the year, Edsel is proud to present A Place Where I Can Go as an expanded edition, now with a thirteen-song bonus disc of demos and outtakes drawn from their twenty years of collaborations. Amongst the tracks are covers of Paul McCartney and U2, and an acoustic version of "I've Got The Music In Me".
The booklet also now includes the album's lyrics and annotation on the bonus tracks.