A Little More Time: The Very Best Of Chairmen Of The Board
Chairmen Of The Board
A Little More Time: The Very Best Of Chairmen Of The Board
Chairmen Of The Board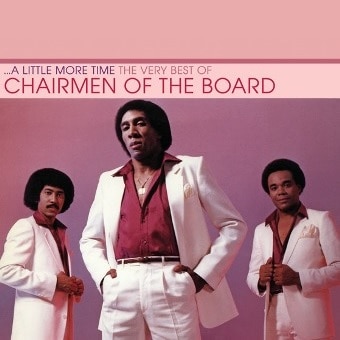 Release information
Release information
Label: Music Club Deluxe
• Format: CD
• Date: 21/09/2009
Cat#: MCDLX116
• Barcode: 5014797671164
• Genre: R&B and Soul
Track Listing
Give Me Just A Little More Time
Since The Days of Pigtails And Fairy Tales
You Got Me Dangling On A String
I'll Come Crawling
Patches
Everything's Tuesday
Pay To The Piper
Bless You
Chairmen Of The Board
When Will She Tell Me That's She Needs Me
Tricked and Trapped (By A Tricky Trapper)
Hanging Onto A Memory
Try On My Love For Size
Working On A Building Of Love
Men Are Getting Scarce
Bravo Hooray
All We Need Is Understanding
It Was Almost Something
Elmo James
Bittersweet
So Glad You're Mine
I'm On My Way To A Better Place
Saginaw County line
Weary Traveller
Let Me Down Easy
Everybody Party All Night
Skin I'm In
Morning Glory
Life and Death (Part 1)
White Rose (Freedom Flower)
Life and Death (Part II)
Let's Have Some Fun
Only Love Can Break A Heart
Finder's Keepers
Rollercoaster (Danny Woods Solo)
Only Time Will Tell (General Johnson Solo)
About this release
Every great band deserves a great name. Every great band makes records unique to them. This is a fundamental law and the Chairmen Of The Board easily fulfil it. In the late '60s and early 70s, they made music as good as anything else around, fusing soul, gospel, pop and funk into a compelling sound, a music that was characterized by its richness, its inventiveness and the striking vocal tones of their front man, General Johnson, one of the decade's great singers.
A fine 2CD collection of the greatest work from this soulful early 70s creation of Holland/Dozier/Holland.
Features the hit title song "Give Me Just A Little More Time" (UK # 3, US # 3, and also a # 2 hit for Kylie Minogue in 1992) and "You Got Me Dangling On A String" (UK # 5).