Quick Step & Side Kick
Thompson Twins
Quick Step & Side Kick
Thompson Twins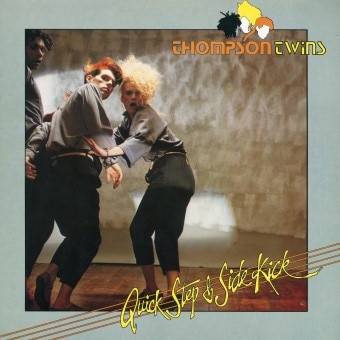 Release information
Release information
Label: Edsel
• Format: CD
• Date: 03/03/2008
Cat#: EDSD2008
• Barcode: 740155200831
• Genre: Pop, Rock
Track Listing
Love On Your Side
Lies
If You Were Here
Judy Do
Tears
Watching
We Are Detective
Kamikaze
Love Lies Bleeding
All Fall Out
Love Lies Fierce [Loves Lies Bleeding]
Long Beach Culture [instrumental]
No Talkin' – Dub [Lies]
Rap Boy Rap [Love On Your Side]
Frozen In Time [Kamikaze]
Fallen Out [All Fall Out]
Lies [Single remix]
Love On Your Back
Lucky Day
Dancersaurus
Lies (Bigger And Better) [12" version]
Beach Culture
Love On Your Side (No Talkin') [12" version]
We Are Detective (More Clues) [12" version]
Lucky Day (Space Mix)
Watching (You Watching Me) [12" version]
Dancersaurus (Even Large Reptiles Have Emotional Problems) [12" version]
About this release
Newly slimmed down to a trio from the seven-piece collective that had hit the charts in 1982 with "In The Name Of Love", the Thompson Twins were set to conquer the world of pop. With Island Records producer Alex Sadkin (Bob Marley, Grace Jones, Robert Palmer, Joe Cocker, Marianne Faithfull, Duran Duran, Foreigner, Simply Red etc) at Compass Point Studios in Nassau, they recorded "Quick Step & Side Kick", which peaked at # 2 in February 1983.
The album's release was heralded by the Top Ten singles "Love On Your Side" (also a US chart hit), "We Are Detective" and "Watching" in early 1983. Being the era of the Pop 12", each single release featured different 12" mixes and non-album b-sides.
Remastered from the original tapes, this deluxe 2 CD release presents all the remixes from the original cassette edition of the album as well as the extended 12" mixes and the non-album b-sides, the majority of which appear on CD for the first time. All this adds up to 130 minutes of "Quick Step & Side Kick"!
The poster booklet features full annotation, singles sleeves and memorabilia from a fan's extensive collection.