The 60s Summer Album
Various Artists
The 60s Summer Album
Various Artists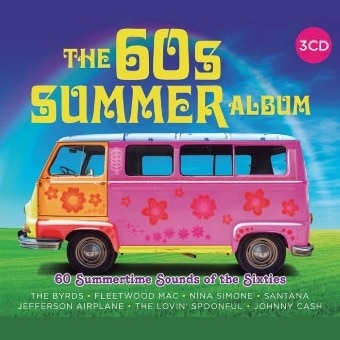 Release information
Release information
Label: Crimson Productions
• Format: CD, Digital
• Date: 15/07/2016
Cat#: CRIMCD586
• Barcode: 654378058622
• Genre: Pop
Track Listing
Scott McKenzie - San Francisco(Be Sure to Wear Flowers in Your Hair)
The Byrds - Mr. Tambourine Man
The Lovin' Spoonful - Summer in the City
Zager & Evans- In the Year 2525 (Exordium & Terminus)
Fleetwood Mac - Albatross
Santana - Evil Ways
Jefferson Airplane - Somebody to Love
The Fifth Dimension - Aquarius /Let the Sunshine In (The Flesh Failures)
Love Affair - Everlasting Love
Gary Puckett & The Union Gap - Young Girl
The McCoys - Hang on Sloopy
1910 Fruitgum Company - Simon Says
The Statler Brothers - Flowers On The Wall
Johnny Cash - Ring Of Fire
Andy Williams - Can't Get Used to Losing You
Bobby Vinton - Blue Velvet
Neil Sedaka - Calendar Girl
Tony Bennett - I Left My Heart in San Francisco
Jim Reeves - Welcome to My World
Percy Faith & His Orchestra - Theme from "A Summer Place"
Sly & The Family Stone - Dance to the Music
The Box Tops - The Letter
Lee Dorsey - Working In A Coalmine
Big Brother & The Holding Company feat. Janis Joplin - Piece of My Heart
Harry Nilsson - Everybody's Talkin'
Jim Reeves - Distant Drums
Marty Robbins - Devil Woman
Neil Sedaka - Breaking Up Is Hard to Do
Tony Orlando - Bless You
Clodagh Rodgers - Goodnight Midnight
Perry Como - Delaware
Georgie Fame - The Ballad of Bonnie & Clyde
The Dave Brubeck Quartet - Take Five
Ohio Express - Yummy Yummy Yummy
Reparata & The Delrons - Captain of Your Ship
Nina Simone - Do What You Gotta Do
Johnny Nash - Hold Me Tight
Lou Christie - I'm Gonna Make You Mine
Henry Mancini & His Orchestra and Chorus - Moon River
Hugo Montenegro - The Good, The Bad And The Ugly
About this release
The 60s Summer Album features sixty summertime sounds of the sixties across 3CD's in a sleek and summery digipak design. Featuring Fleetwood Mac, Nina Simone, Jefferson Airplane, The Byrds, Santana, The Lovin' Spoonful and more!