Say I'm Your Number One: The Stock Aitken Waterman Singles Box Set
Various Artists
Say I'm Your Number One: The Stock Aitken Waterman Singles Box Set
Various Artists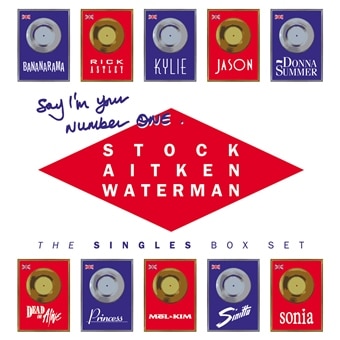 Release information
Release information
Label: Edsel
• Format: CD
• Date: 04/12/2015
Cat#: SAWBOX01
• Barcode: 5014797893528
• Genre: Pop
Sub Genre: Classic Pop
Track Listing
You Think You're A Man
I'm So Beautiful
Give It Up
Show Me Around
You Think You're A Man [12" Mix]
You Think You're A Man [Remix]
You Think You're A Man [Original Mix]
I'm So Beautiful [Mix]
I'm So Beautiful [Divine Mix]
I'm So Beautiful [Divine Mix Edit]
I'm So Beautiful ['Shake It' Dub]
Whatever I Do (Wherever I Go)
Who's Leaving Who
Whatever I Do (Wherever I Go) [Dance Mix]
Whatever I Do (Wherever I Go) [Dub Mix]
Who's Leaving Who [Bob's Tambourine Mix
Who's Leaving Who [The Boys Are Back In Town Mix]
Who's Leaving Who [Alternative 12" Mix]
Whatever I Do (Wherever I Go) [Remix
Whatever I Do (Wherever I Go) [Extended Remix]
Whatever I Do (Wherever I Go) [Remix Edit]
Whatever I Do (Wherever I Go) [Instrumental]
Who's Leaving Who [Bob's Tambourine Instrumental]
You Spin Me Round (Like A Record)
In Too Deep [7" Remix]
You Spin Me Round (Like A Record) [Murder Mix]
You Spin Me Round (Like A Record) [Performance Mix]
You Spin Me Round (Like A Record) [Buzzing Bees Mix]
In Too Deep [Off Yer Mong Mix]
In Too Deep [Instrumental]
Contract Of The Heart
Stop This Rumour
St Valentine's Day Mascara (Say It With Cadavers)
Contract Of The Heart [S Mix]
Stop This Rumour [The Lust Mix]
12 Inch Extensive Massacre
Say I'm Your Number One
Say I'm Your Number One [Full-Length Version]
Say I'm Your Number One [Short Version]
Say I'm Your Number One [REMIX Number 2]
Say I'm Your Number One [Alternative Version]
Say I'm Your Number One [HRH Mix No. 3]
Say I'm Your Number One [REMIX Number 1]
Say I'm Your Number One [US 7" Remix]
Say I'm Your Number One [Demo Version]
Say I'm Your Number One [Senza Voce]
Say I'm Your Number One [Senza Voce Edit]
The Heaven I Need
This Is The House
The Heaven I Need [Extended Version]
The Heaven I Need [Mega Dance Mix]
The Heaven I Need [Original 12" Mix]
This Is The House [Extended Version]
This Is The House [Mega Dance Version]
This Is The House [7" Remix]
This Is The House [12" Remix]
This Is The House [Real Bass 7" Mix]
This Is The House [Real Bass 12" Mix]
This Is The House [Funky Sisters Say 'This Is The Dub' Mix]
The Heaven I Need [Senza Voce]
This Is The House [Senza Voce]
Getting Closer
You'd Better Not Fool Around
Getting Closer [Extended Version]
You'd Better Not Fool Around [Extended Version]
You'd Better Not Fool Around [Original Mix]
Getting Closer [Instrumental]
Whenever You Need Somebody
100% Pure Pain
Whenever You Need Somebody [Extended Version]
Whenever You Need Somebody [Pull It Off Mix]
Whenever You Need Somebody [Cool & Deadly Mix]
Whenever You Need Somebody [The Umbungo Mix]
100% Pure Pain [Extended Version]
100% Pure Pain [US Extended Remix]
100% Pure Pain [US Extended Dub Mix]
100% Pure Pain [7" Remix]
100% Pure Pain [Instrumental]
Love Is War
Somebody [7" Mix]
Love Is War [Extended Version]
Love Is War [Alternative 12" Mix]
Somebody [Extended Version]
Somebody [New Dub Mix]
Somebody [New Dub Mix]
Love Is War [Instrumental]
Somebody [Instrumental]
Venus
Venus [Extended Version]
Venus [Dub]
Venus [Hellfire Mix]
Venus [Hellfire Dub]
Venus [Fire & Brimstone Mix]
Venus [Original Mix]
Venus [Original 12" Mix]
Venus [The Greatest Remix Edit]
Venus [The Greatest Remix]
Venus [Desire Dub]
New York Afternoon
An Everlasting Love In An Ever-Changing World
Manhattan Morning
New York Afternoon [Extended Version]
New York Afternoon [Little Samba Mix]
New York Afternoon [Nip On Mix]
An Everlasting Love… [A Foggy Day In London Town Mix]
An Everlasting Love… [Instrumental]
Second Time Around
Speed Up My Heartbeat
Second Time Around [Extended Version]
Second Time Around [The Broken Nose Mix]
Speed Up My Heartbeat [Extended Version]
Second Time Around [Instrumental]
Speed Up My Heartbeat [Instrumental]
I Just Can't Wait
You're Never Alone
I Just Can't Wait [Extended Version]
I Just Can't Wait [The Cool And Breezy Jazz Version]
I Just Can't Wait [Alternative 7" Mix]
I Just Can't Wait [Alternative 12" Mix]
I Just Can't Wait [You Can Jam If You Want To]
I Just Can't Wait [The Cool And Breezy Jazz 7" Version]
I Just Can't Wait [Instrumental]
I Just Can't Wait [Alternative Instrumental]
I Just Can't Wait [The Cool And Breezy Jazz Instrumental]
Respectable
Respectable [Extended Version]
Respectable [Extra Beats Vocal]
Respectable [The Tabloid Mix]
Respectable [Shop Mix]
Respectable [Album Version]
Respectable [Full Album Version]
Respectable [Extra Beats Version]
Respectable [Instrumental]
Get Ready
More Than Words Can Say
Get Ready [Extended Remix]
Get Ready [Extraterrestrial Bass Mix]
Get Ready [Original 12" Mix]
Get Ready [Instrumental]
Nothing's Gonna Stop Me Now
I Only Wanna Be With You
Nothing's Gonna Stop Me Now [Extended Version]
Nothing's Gonna Stop Me Now [Cub Mix]
Nothing's Gonna Stop Me Now [Jump & Jive Mix]
I Only Wanna Be With You [Extended Version]
I Only Wanna Be With You [12" Mix]
I Only Wanna Be With You [Special Single Edit]
I Only Wanna Burn With You
I Only Wanna House With You
I Only Wanna Be With You [Acappella Mix]
Nothing's Gonna Stop Me Now [Instrumental]
I Only Wanna Be With You [Instrumental]
Toy Boy
Toy Boy [Extended Rap Version]
Toy Boy [The Original Mix]
Toy Boy [The Extended Bicep Mix]
Toy Boy [Extended Bicep Mix]
Toy Boy [The Extended Bicep Mix Edit]
Toy Boy [Pumped Up Megamix]
Toy Boy [Over Extended Bicep Mix]
Toy Boy [Extended Hip Joint Mix]
Toy Boy [Remix]
Toy Boy [Brand New Megamix]
Toy Boy [Instrumental]
Roadblock [Edit]
Roadblock [Extended Version]
Roadblock [Horn Jammin' Dub]
Roadblock [Rare Dub Edit]
Roadblock [Rare Dub]
Roadblock [Rare Groove Mix Edit]
Roadblock [Rare Groove Mix]
Roadblock [No Block 'Til Deutschland Mix]
Roadblock [No Block 'Til Deutschland Edit]
Roadblock [Alternative Rare Groove Mix]
Shattered Glass
Whatever I Do
Shattered Glass [12" Vocal Mix]
Shattered Glass [Instrumental]
Never Gonna Give You Up
Together Forever [Lovers Leap Remix]
Never Gonna Give You Up [Cake Mix]
Never Gonna Give You Up [Escape From Newton Mix]
Never Gonna Give You Up [Escape To New York Mix]
Never Gonna Give You Up [Phil Harding 12" Mix]
Together Forever [Lovers Leap Extended Remix]
Together Forever [House Of Love Mix]
Never Gonna Give You Up [Instrumental]
Never Gonna Give You Up [12" Instrumental]
Whatever Makes Our Love Grow
Whatever Makes Our Love Grow [7" Remix]
Whatever Makes Our Love Grow [Video Version]
Whatever Makes Our Love Grow [Extended Version]
Whatever Makes Our Love Grow [Grown-Up Mix]
Whatever Makes Our Love Grow [Instrumental]
Whatever Makes Our Love Grow [12" Instrumental]
Turn It Up [LP Version]
Turn It Up [7" Remix]
Turn It Up [Extended Dance Mix]
Turn It Up [In Full Cry Mix]
Turn It Up [Miami Dub Mix]
Turn It Up [7" Instrumental]
Turn It Up [Long Instrumental]
The Harder I Try
He Ain't No Competition
The Harder I Try [Extended Version]
The Harder I Try [The Hardest Mix]
The Harder I Try [The Hardest 7"]
He Ain't No Competition [Extended Version]
He Ain't No Competition [Space Hopper Remix 1]
He Ain't No Competition [Space Hopper Remix 2]
The Harder I Try [Instrumental]
He Ain't No Competition [Instrumental]
All Of Me (Boy Oh Boy)
All Of Me (Boy Oh Boy) [The Boy O Boy Mix]
All Of Me (Boy Oh Boy) [Gen-Oh-A Mix]
All Of Me (Boy Oh Boy) [Instrumental]
All Of Me (Boy Oh Boy) [12" Instrumental]
All Of Me (Boy Oh Boy) [Gen-Oh-A Instrumental]
Success
Success [Extended Version]
Success [Acid Mix #1 - Vox]
Success [Acid Mix #2 - Instrumental]
Success [Balearacidic 12 Inch]
Success [Funky Mix]
Success [Micro-Dot Dub]
Success [Metal Hammer Mix]
Success [Balearacidic Mix]
Success [Drug-Free 7"]
Especially For You
All I Wanna Do Is Make You Mine
Especially For You [Extended Version]
Especially For You [Original 7" Mix]
Especially For You [Original 12" Mix]
All I Wanna Do Is Make You Mine [Extended Version]
Especially For You [Instrumental]
This Time I Know It's For Real
Whatever Your Heart Desires [Original Mix]
This Time I Know It's For Real [Extended Version]
This Time I Know It's For Real [Instrumental]
1989 Interview
You'll Never Stop Me Loving You
Listen To Your Heart
Better Than Ever
You'll Never Stop Me Loving You [Extended Version]
You'll Never Stop Me Loving You [Sonia's Kiss Mix]
Listen To Your Heart [Extended Version]
Better Than Ever [Original Mix]
You'll Never Stop Me Loving You [Instrumental]
Listen To Your Heart [Instrumental]
Happenin' All Over Again [Hip House Radio Mix]
Happenin' All Over Again [Hip House Mix]
Happenin' All Over Again [Hip House Rap Mix]
Happenin' All Over Again [Italiano House Mix]
Happenin' All Over Again [The Remix]
Happenin' All Over Again [Original 12" Mix]
Happenin' All Over Again [Dave Ford 1990 Mix]
Happenin' All Over Again [Tony King 1990 Mix]
Happenin' All Over Again [Extended Remix]
Happenin' All Over Again [Jewels & Stone Club Mix]
Happenin' All Over Again [Jewels & Stone Dub]
Happenin' All Over Again [Jewels & Stone NY Dub]
Happenin' All Over Again [12" Senza Voce]
Happenin' All Over Again [Tony King Instrumental]
That's What Love Can Do
One Thing Leads To Another
That's What Love Can Do [Extended Version]
That's What Love Can Do [Original Mix]
That's What Love Can Do [Radio Mix]
That's What Love Can Do [Club Mix]
That's What Love Can Do [Dub]
That's What Love Can Do [Gigolo Bonus Mix]
That's What Love Can Do [Gigolo Club]
That's What Love Can Do [Man Mad Mix]
That's What Love Can Do [Safe In The Hands Of Dub Mix]
That's What Love Can Do [Safe Hands Italia Dub]
That's What Love Can Do [Zebra Mix]
That's What Love Can Do [Tony's Wax It Mix]
That's What Love Can Do [Instrumental]
The Upstroke
Shadow Man
The Upstroke [Extended Version]
The Upstroke [Naughty Mix]
About this release
This very special 31-disc CD singles collection celebrates the legacy and phenomenal chart success of the Stock Aitken Waterman songwriting and production team, who provided the pop soundtrack of the late 80s.
Released to mark 30 years since their first UK number one with Dead Or Alive's You Spin Me Round (Like A Record), this is the first-ever box set devoted to the hitmaking partnership of Mike Stock, Matt Aitken and Pete Waterman and tells their whole story by bringing together 31 classic releases from 31 different artists. Essential hits such as Kylie Minogue and Jason Donovan's Especially For You, Bananarama's Venus and Rick Astley's Never Gonna Give You Up feature alongside sought-after rarities and fan favourites by everyone from cyberpunk fantasy band Sigue Sigue Sputnik to Philly soul sensations the Three Degrees and Motown legend Edwin Starr.
Each remastered CD single in this set is presented in an individual card sleeve replicating classic original vinyl artwork and has been expanded to include 12" mixes, rare B-sides and bonus cuts, with fourteen CDs 'packjammed' as special double A-side editions each featuring two classic singles.
Across 31 discs, the complete box set boasts over 250 tracks, many of which are previously unreleased or on CD for the very first time, making this collection a must-have for all SAW fans, collectors and connoisseurs of 80s pop. Housed in an heirloom-quality outer box designed in homage to the gold and silver disc-packed walls of the PWL 'Hit Factory', the set also includes a 48-page booklet featuring lyrics, discography, a commentary from Pete Waterman and brand new sleeve notes, plus an exclusive sticker sheet and postcard set.
After teaming up in early 1984, SAW soon scored hits with Divine and Hazell Dean before hitting the top spot with Dead Or Alive at the beginning of 1985. That year also found them penning and producing the bona-fide UK soul classic Say I'm Your Number One for Princess. Momentum continued to build with Bananarama's Venus topping the US charts in 1986 and SAW pioneering the UK house sound with Mel & Kim, who hit number one with Respectable in early 1987. And from then on, the hits came thick and fast with Samantha Fox, Sinitta, Rick Astley, Kylie, Jason, Sonia and the original queen of disco Donna Summer just a few of the artists to take their tracks to the top end of the charts around the world.
In just over seven years, Stock Aitken Waterman scored over a hundred UK hit singles, including thirteen number ones, before Matt Aitken's departure from the team in 1991. Their base, Pete Waterman's PWL production company, studio complex and latterly record label, self-styled as a the 'British Motown', was undoubtedly deserving of the 'Hit Factory' epithet, but as this collection ably demonstrates, the sheer diversity of SAW's body of work disproves the myth of a conveyor-belt production line. Beyond the irresistibly instant Hi-NRG-influenced pop for which they are best known, their catalogue is characterised by diversity as much as quality, with their own rare groove smash Roadblock sitting alongside many such 'lost gems' as Brilliant's underrated Love Is War, girlband Boy Krazy's US hit That's What Love Can Do and the blissful New York Afternoon featuring Georgie Fame.
A fitting tribute to the most successful and prolific writing and production team in UK chart history, Say I'm Your Number One: The Stock Aitken Waterman Singles Box Set brings together many such fan favourites with more than 20 of their most memorable Top 20 hits, including seven transatlantic chart-toppers.
CD1 – DIVINE – YOU THINK YOU'RE A MAN (1984) Plus  I'M SO BEAUTIFUL (1984)
CD2 – HAZELL DEAN – WHATEVER I DO (WHEREVER I GO) (1984) Plus WHO'S LEAVING WHO (1988)
CD3 – DEAD OR ALIVE – YOU SPIN ME ROUND (LIKE A RECORD) (1985) Plus IN TOO DEEP (1985)
CD4 – SPELT LIKE THIS – CONTRACT OF THE HEART (1985) Plus STOP THIS RUMOUR (1985)
CD5 – PRINCESS – SAY I'M YOUR NUMBER ONE (1985)
CD6 – THE THREE DEGREES – THE HEAVEN I NEED (1985) Plus THIS IS THE HOUSE (1986)
CD7 – HAYWOODE – GETTING CLOSER (1985) Plus YOU'D BETTER NOT FOOL AROUND (1986)
CD8 – O'CHI BROWN – WHENEVER YOU NEED SOMEBODY (1985) Plus 100% PURE PAIN (1986)
CD9 – BRILLIANT – LOVE IS WAR (1986) Plus SOMEBODY (1986)
CD10 – BANANARAMA – VENUS (1986)
CD11 – MONDO KANE – NEW YORK AFTERNOON (1986) Plus AN EVERLASTING LOVE IN AN EVER-CHANGING WORLD (1986)
CD12 – JEB MILLION – SECOND TIME AROUND (1986) Plus SPEED UP MY HEARTBEAT (1986)
CD13 – MANDY SMITH – I JUST CAN'T WAIT (1987)
CD14 – MEL & KIM – RESPECTABLE (1987)
CD15 – CAROL HITCHCOCK – GET READY (1987)
CD16 – SAMANTHA FOX – NOTHING'S GONNA STOP ME NOW (1987) Plus I ONLY WANNA BE WITH YOU (1989)
CD17 – SINITTA – TOY BOY (1987)
CD18 – STOCK AITKEN WATERMAN – ROADBLOCK (1987)
CD19 – LAURA BRANIGAN – SHATTERED GLASS (1987)
CD20 – RICK ASTLEY – NEVER GONNA GIVE YOU UP (1987) Plus TOGETHER FOREVER (1988)
CD21 – EDWIN STARR – WHATEVER MAKES OUR LOVE GROW (1987)
CD22 – MICHAEL DAVIDSON – TURN IT UP (1987)
CD23 – BROTHER BEYOND – THE HARDER I TRY (1988) Plus HE AIN'T NO COMPETITION (1988)
CD24 – SABRINA – ALL OF ME (BOY OH BOY) (1988)
CD25 – SIGUE SIGUE SPUTNIK – SUCCESS (1988)
CD26 – KYLIE & JASON – ESPECIALLY FOR YOU (1988)
CD27 – DONNA SUMMER – THIS TIME I KNOW IT'S FOR REAL (1989)
CD28 – SONIA – YOU'LL NEVER STOP ME LOVING YOU (1989) Plus LISTEN TO YOUR HEART (1989)
CD29 – LONNIE GORDON – HAPPENIN' ALL OVER AGAIN (1990)
CD30 – BOY KRAZY – THAT'S WHAT LOVE CAN DO (1993)
CD31 – AGENT'S AREN'T AEROPLANES
Bonus 31st Disc to mark the 31st anniversary of the very first SAW single!
Plus…if you order from the Official Store you will receive an exclusive, limited edition 20″x30″ poster, unavailable elsewhere!
Extra information about this release