1977-2017: 40 Years Of UK Subs Singles
UK Subs
1977-2017: 40 Years Of UK Subs Singles
UK Subs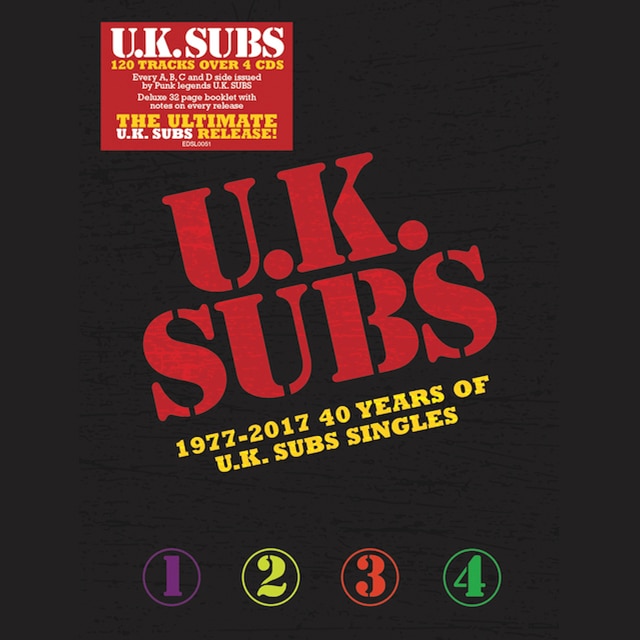 Release information
Release information
Label: Edsel
• Format: CD
• Date: 04/10/2019
Cat#: EDSL0051
• Barcode: 740155725136
• Genre: Rock
Sub Genre: Punk
Track Listing
I Live In A Car [Summer '77 Demo]
I Couldn't Be You (Summer '77 Demo)
Telephone Numbers [Winter '77 Demo]
Tomorrow's Girls (Winter '77 Demo)
Stranglehold (Winter '77 Demo)
Disease (Winter '77 Demo)
C.I.D.
I Live In A Car
B.1.C.
Stranglehold
World War
Rockers
Tomorrows Girls
Scum Of The Earth
Telephone Numbers
She's Not There
Kicks
Victim
The Same Thing
Warhead
The Harper
I'm Waiting For The Man
Teenage
Left For Dead
New York State Police
I.O.D. [Live]
Lady Esquire (Live)
Blues (Live)
Young Criminals (Live)
Party In Paris
Fall Of The Empire
Keep On Running (Til You Burn)
Perfect Girl
Ice Age
Party In Paris [French Version]
Countdown
Plan Of Action
Endangered Species
Lie Down And Die
Self Destruct
Police State (Part 1)
War Of The Roses
Another Typical City
Still Life
Veronique
Another Typical City (Extended Version)
The Spell
Private Army
Multiple Minds
Primary Strength
This Gun Says
Speak For Myself
Wanted
Stranglehold (Live)
New Barbarians (Live)
Tomorrow's Girls (Live)
Between The Eyes (Live)
Hey! Santa
Captain Scarlet
Thunderbird
Street Legal
The Motivator
Combat Zone
Fascist Regime
Auld Lang Syne
Cycle Sluts From Hell
Sabre Dance
The Motivator (Alternative Take)
No Heart
Fear To Go
Nico
Jodie Foster
Here Comes Alex
Killertime
Another Cuba (Demo)
Lydia (Demo)
Postcard From L.A.
Betrayal
Nobody Move
War On The Pentagon
Rebel Radio
Day Of The Dead
Chemical War
Cyberjunk
Quintessentials
Riot
Government Drugs
B.F.D.
Hops N Barley
Riot [Version 2]
It's A Scam
Bathroom Messiah
UK Subversives
Reclaim The Street
Metro
Go Home
Something In The Air
The Revolution's Here
Party In Paris (2000 Version)
Something In The Air (Version)
Terroistos
Drunken Sailor
Product Supply
Rare Disease
Embryo
666 Yeah
Straighten Out
I Live In A Car [2008]
Creation
Warhead (2008 Version)
Straighten Out (Version 2)
Knuckleduster
Sin City Blues
Rebellion Song
Archaeology
611
The Beast
Dark Matter
Predator
Master Of The Soul
About this release
Housed in a deluxe hard back book, this 120 track 4 CD box set contains every A, B, C and D side issued by Punk legends U.K. Subs.
From their first 1977 demo right through to the most recent "Predator" single this really is the Ultimate U.K. Subs release. Early hit singles like "Warhead", "Teenage" and "She's Not There" rub shoulders with rarer 45's like ""Riot 98" and "666Yeah" as chronologically the set trawls through the bands singles over the last 40 years.
The highly informative booklet contains info on every single by the bands webmaster and historian Mark Chadderton and there are illustrations of each of these now highly collectable records spread across the booklet's 32 pages. Mastered by James Bragg who oversaw the bands "A-M" and "N-Z" albums box sets. The U.K. Subs have never looked or sounded so good!
Each album comes in its own sleeve with individual inner bags with the music pressed on purple, yellow, orange and green vinyl's. Added in is a highly detailed and illustrated 16 page 10" booklet giving the lowdown on each release.