Timeless Memories
Foster & Allen
Timeless Memories
Foster & Allen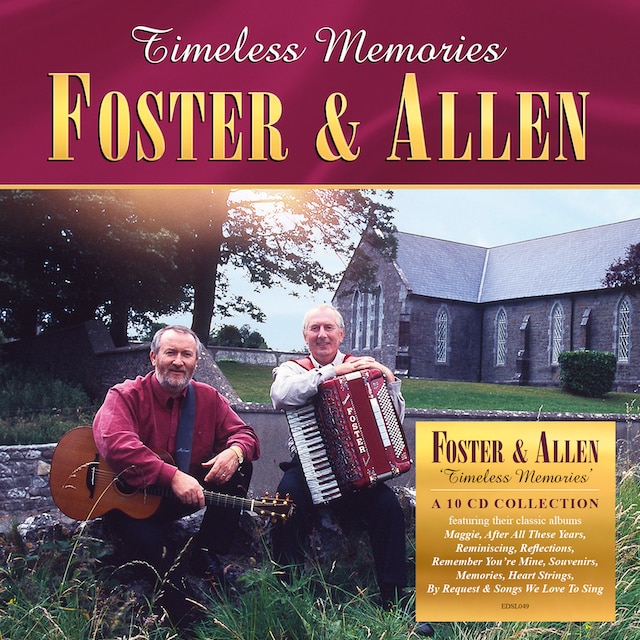 Release information
Release information
Label: Edsel
• Format: CD
• Date: 05/07/2019
Cat#: EDSL0049
• Barcode: 740155724931
• Genre: Easy Listening
Track Listing
Maggie
The Old Rustic Bridge By The Mill
Harvest Moon
Isle Of Innisfree
Mist Upon The Morning
Hornpipes (A Selection)
Sweethearts In The Spring
Blue Eyes Crying In The Rain
Molly My Lovely Molly
Seasons Of The Heart
Reels (A Selection)
Nell Flaherty's Drake
Farewell To Derry
Johnny Browne
After All These Years
The Old Dungarvan Oak
When I Dream
Bluebell Polka
Do You Think You Could Love Me Again
Leavin' Of Liverpool
Rose Of Allendale
I Still Love You
Cottage By The Sea
Old Ardboe
The Scots Polka
The Rose Of Mooncoin
Six Foot Seven Woman
When My Blue Moon Turns To Gold Again
Nobody's Darlin' But Mine
Somewhere My Love
Old Shep
Sweetest Of All
Fraulein
The Moonshiner
Sunshine Of Your Smile
Sitting Alone In An Old Rocking Chair
The Wild Side Of Life
Old Loves Never Die
Sweet Bye And Bye
Old Pals
If We Had Old Ireland Over Here
I Wish I Was Eighteen Again
She Sang The Melody
A Pub With No Beer
Long Before Your Time
The Mira
True Love
Ramblin' Rose
I Love You Because
Goodnight Irene
An Old Love
Annie's Song (Instrumental)
You Seldom Come To See Me Anymore
Away To Mary Anne
Mary Of Argyll
Tennessee Waltz
Could I Have This Dance (For The Rest Of My Life)
Part Of Me Will Always Be In Love With You
The Last Thing On My Mind
Edelweiss
Life In The Finland Woods (Instrumental)
Scarlet Ribbons
The Rose Of Tralee
All The Days Of My Life
No More Good Times
Now Is The Hour
Silver Threads Among The Gold
The Wild Rover
Remember You're Mine
The Hills Of Connemara
The Golden Years
The First House In Connaught/The Donegal Ree
From The Candy Store On The Corner (To The Chapel On The Hill)
The Stone Outside Dan Murphy's Door
Rose Of My Heart
The Woman In The Bed
Once Upon A Time
My Lovely Rose Of Clare
On The Mountain/Tobin's Favourite
More Than Yesterday
The Ballad Of Dawn Run
Sorrento Thoughts
My Happiness
From A Jack To A King
I Can't Stop Loving You
The Old Threshing Mill
Sweet Dreams
Moonlight In Mayo
Your Old Love Letters
Let The Rest Of The World Go By
Reels: Mack's Ramblers/Buffalo Girls/Sunshine Reel
Tar And Cement
Westmeath Batchelor
Farewell Party
Candlelight And Wine
The Moon, The Stars And Me
Under The Bridges Of Paris
Till I Gain Control Again
The Land I Love So Well
Jigs: The Cobbler / Pet Of The Pipers
After The Ball
Any Dream Will Do
Wooden Heart
Fireside Dreaming
The Old Button Box
Turn Back The Years
Katie Daly
Lily Of The Valley
Selection Of Jigs: Carraroe/Hinchey's Delight
Our Anniversary
Bright Silvery Light Of The Moon
A Mother's Love's A Blessing
Sweet Offaly Lady
Sweet Forget Me Not
Coolaba Bay
Red Haired Mary
One Night Of Love
Selection Of Reels: The Scholar/Swinging Gate
Que Sera Sera
I Love You More And More Everyday
When You Are In Love It's The Loveliest Night Of The Year
I'll Tell Me Ma
Send Me The Pillow You Dream On
The Ring Your Mother Wore
The Old Boreen
Roses And Violets
Liverpool Lou
Brian O'Kane's March
There's A Rainbow Somewhere
An Old Time Waltz
The Irish Rover
Sweet Thames Flow Softly
On My Mind
Love Me
Little Beggar Man
The Village Where I Went To School
You're Never Too Old To Love
Polkas
You Got Gold
Song Sung Blue
Wolverton Mountain
I Don't Know Why I Love You But I Do
Oh Lonesome Me
Beautiful Dreamer
Do You Want Your Old Lobby Washed Down
Shutters And Boards
One Hundred Children
Peter's Street/Mason's Apron
Memories Are Made Of This
Release Me
Things
I Love You Every Second
My Uncle Mike
Why Worry
Those Lazy Hazy Crazy Day's Of Summer
My Father's House
Teaching McFadden To Dance
Wait Till The Clouds Roll By Jenny
Sunshine Hornpipe/Golden Eagle
Sea Of Heartbreak
Everything Is Beautiful
Don't Let The Stars Get In Your Eyes
Still
Mursheen Durkin
Love Me Tender
Do What You Do Do Well
Take These Chains From My Heart
A Picture Of You
An Irish Harvest Day
The Wabash Cannonball
Jealous Heart
Hello Mary Lou
Oh Dearest One
Shuffling Samuel
Have I Told You Lately That I Love You
Johnny Will
Rare Old Mountain Dew
Pip Pip (Can You Hear Me)
Carolina Star
The Gypsy Rover
Jigs: The Knights Of St. Patrick/The Irish Washer Woman
The Holy Ground
About this release
Since the start of this millennium, Mick Foster and Tony Allen have sold almost 1.5 MILLION units in the UK.
Over the last several year, Foster & Allen have developed a successful TV show, which features live performance, videos and special guests.
This special edition new release, features 182 tracks from 10 of their most popular and favourite albums, many of which have not been reissued in the UK for a number of years; Maggie, After All These Years, Reminiscing, Reflections, Remember You're Mine, Souvenirs, Memories, Heart Strings, By Request & Songs We Love To Sing.
In 2018, Foster & Allen undertook a 60+ date touring commitment and this year, they have already performed 11 dates in Ireland, are currently in Australia and New Zealand with 18 shows , will be in Canada in September, followed by an Autumn Northern Ireland tour and early-2020 UK tour.
Foster & Allen aren't showing any signs of slowing down and their touring commitments prove how popular they remain for their fans who like to see them in a live performance experience.