Val Donnican – The Gold Collection
Val Doonican
Val Donnican – The Gold Collection
Val Doonican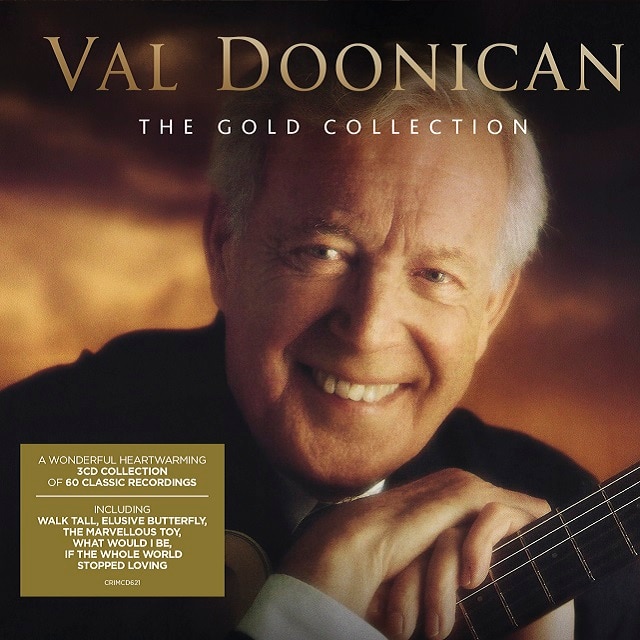 Release information
Release information
Label: Crimson Productions
• Format: CD
• Date: 11/01/2019
Cat#: CRIMCD621
• Barcode: 0654378062124
• Genre: Easy Listening
Track Listing
Walk Tall
Elusive Butterfly
Song Sung Blue
All My Loving
Memories Are Made Of This
The Special Years
You're The Only One
It's Impossible
The Folks Who Live On The Hill
Daughter
Mysterious People
Maggie
When You Were Sweet Sixteen
A Bunch Of Thyme
I'm Just A Country Boy
Paddy McGinty's Goat
The Marvellous Toy
The Streets Of London
The First Time Ever I Saw Your Face
Three Times A Lady
59th Street Bridge Song (Feelin' Groovy)
If I Were A Carpenter
I Love You Because
Green Green Grass Of Home
If The Whole World Stopped Loving
If I Knew Then What I Know Now
A Man Chases A Girl (Until She Catches Him)
Now
What Would I Be
Two Streets
I'm Gonna Get There Somehow
Me And The Elephant
Ann
A Groovy Kind Of Love
Hello
Wind Beneath My Wings
You Needed Me
Durham Town (The Leaving)
Time In A Bottle
Stranger On The Shore
Yesterday
Portrait Of My Love
The Windmills Of Your Mind
You Were Always On My Mind
King Of The Road
A Thing Called Love
Heaven Is My Woman's Love
Walk Right Back
He'll Have To Go
For The Good Times
Morning
Ring Of Bright Water
Scarborough Fair
Scarlet Ribbons
The Sun Always Shines (When You're Young)
Laughter In The Rain
Katy
Delaney's Donkey
Englebert the Elephant
O'Rafferty's Motor Car
About this release
Val Doonican remains one of the nations' favourite entertainers, with his warm, friendly and relaxed delivery, as seen during his Saturday night prime time TV show, The Val Doonican Show, which had a long and successful run on BBC Television for more than 20 years.
He easily blended a cocktail of traditional Irish songs, with his arrangements on pop music and covering easy listening and novelty songs, Val scored a dozen Top 40 hit singles, including five Top 10 hits – 'Walk Tall', 'The Special Years', 'Elusive Butterfly', 'What Would I Be' and 'If The Whole World Stopped Loving' – over a ten year period.
He also reached the Top 40 Albums Chart on twelve occasions over a 44-year period, including five successive Top 10 albums in the 1960s.
This new 60-track retrospective, "The Gold Collection", showcases all of these facets that make this heart-warming collection a 'must have' album.