100 Hits – Pure 80s (Digital)
Various Artists
100 Hits – Pure 80s (Digital)
Various Artists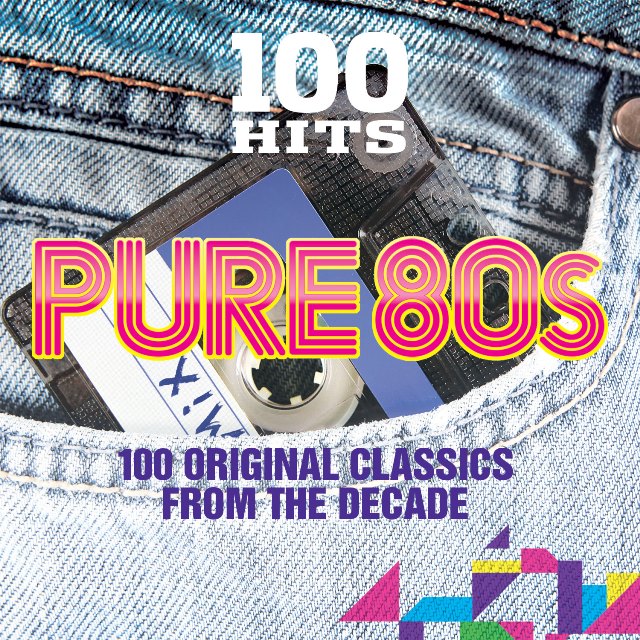 Release information
Release information
Label: 100 Hits
• Format: Digital
• Date: 13/05/2016
Cat#: 5032698679669
• Barcode: 5032698679669
• Genre: Pop
Track Listing
Girls Just Wanna Have Fun - Cyndi Lauper
Never Gonna Give You Up - Rick Astley
I Could Be Happy - Altered Images
You Spin Me Round (Like A Record) - Dead Or Alive
Walk Like An Egyptian - The Bangles
99 Red Balloons - Nena
The King Of Rock 'N' Roll - Prefab Sprout
Maneater - Daryl Hall & John Oates
I Ran (So Far Away) - A Flock Of Seagulls
I Feel The Earth Move - Martika
Love & Pride - King
Apollo 9 - Adam Ant
Joy - After The Fire
Favourite Shirts (Boy Meets Girl) - Haircut 100
E=MC2 - Big Audio Dynamite
My Favourite Waste Of Time - Owen Paul
Love Resurrection - Alison Moyet
Summer Rain - Belinda Carlisle
The First Picture Of You - The Lotus Eaters
Digging Your Scene - The Blow Monkeys
Love Plus One - Haircut 100
Hold Me Now - Thompson Twins
Dream To Sleep - H2O
Out Of Touch - Daryl Hall & John Oates
Break My Stride - Matthew Wilder
(Feels Like) Heaven - Fiction Factory
Do You Feel Like I Feel - Belinda Carlisle
Einstein A Go - Go
Brilliant Mind - Furniture
When Love Breaks Down - Prefab Sprout
Love All Day (And Night) - Nick Heyward
You Don't Need Someone New - The Lotus Eaters
Wishing (If I Had A Photograph Of You) - A Flock Of Seagulls
Antmusic - Adam & The Ants
It's A Good Thing - That Petrol Emotion
The Safety Dance - Men Without Hats
Live It Up - Mental As Anything
Don't Talk To Me About Love - Altered Images
Life In Tokyo - Japan
Japanese Boy - Aneka
Theme From S - Express
Rockit - Herbie Hancock
Alice, I Want You Just For Me! - Full Force
Der Kommissar (7"" Version) - After The Fire
I Wonder If I Take You Home - Lisa Lisa & Cult Jam With Full Force
Shiny Shiny Bon Temps (12"" Version) - Haysi Fantayzee
(You Are My) All And All - Joyce Sims
Roses - Haywoode
Caribbean Queen (No More Love On The Run) - Billy Ocean
Fake - Alexander O'Neal
Girl You Know It's True - Milli Vanilli
All Fall Down - Five Star
This Time I Know It's For Real - Donna Summer
I Didn't Mean To Turn You On - Cherrelle
Move Closer - Phyllis Nelson
Beat Dis - Bomb The Bass
Wham Rap! (Enjoy What You Do?) - Wham!
Your Love - Frankie Knuckles & Jamie Principle
Body Work - Hot Streak
This Beat Is Mine - Vicky "D"
I Like You - Phyllis Nelson
Dinner With Gershwin - Donna Summer
When The Going Gets Tough, The Tough Get Going - Billy Ocean
Criticize - Alexander O'Neal
Don't Give Your Love Away - Steve Shelto
Love Can't Turn Around - Farley 'Jackmaster' Funk
It's Like That - Run
Getting Closer - Haywoode
John Wayne Is Big Leggy - Haysi Fantayzee
Chihuahua - Bow Wow Wow
Automatic - The Pointer Sisters
Nothing's Gonna Stop Me Now - Samantha Fox
Hi - Fidelity
Pretty In Pink - The Psychedelic Furs
Real Gone Kid - Deacon Blue
What Did I Do To You? - Lisa Stansfield
So Macho - Sinitta
Together Forever - Rick Astley
Somebody's Angel - Owen Paul
Carrie - Europe
I'm Your Man - Wham!
Boxerbeat - JoBoxers
Saturday Love - Cherrelle & Alexander O'Neal
Love On Your Side - Thompson Twins
Love My Way - The Psychedelic Furs
It's Raining Men - The Weather Girls
Time After Time - Cyndi Lauper
European Son - Japan
I Like - Men Without Hats
Love Of The Common People - Paul Young
Love Me - Furniture
Neutron Dance - The Pointer Sisters
Come Into My Life - Joyce Sims
Don't Fall In Love (I Said) - Toyah
More Than You Know - Martika
Nothing's Gonna Stop Us Now - Starship
Dr Beat - Miami Sound Machine
Funky Town - Pseudo Echo
Broken Wings - Mr. Mister
The Final Countdown - Europe
About this release
favourite songs of the 80s to enjoy featuring incredible tracks from the finest pop artists such as Wham!, Cyndi Lauper, Adam Ant and many more in this timeless collection.
Extra information about this release