100 Hits Presents: Karaoke
Various Artists
100 Hits Presents: Karaoke
Various Artists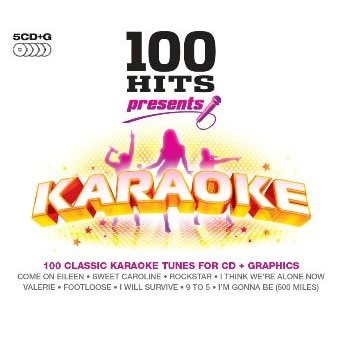 Release information
Release information
Label: 100 Hits
• Format: CD
• Date: 06/10/2008
Cat#: DMG100022
• Barcode: 654378702228
• Genre: Pop
Track Listing
Valerie
All Summer Long
Rockstar
Warwick Avenue
Don't Stop The Music
A Moment Like This
That's Not My Name
Ruby
Standing In The Way Of Control
Hey There Delilah
She's So Lovely
Read My Mind
Shine
Makes Me Wonder
Grace Kelly
Say It Right
American Boy
Beautiful Girls
Love Song
Sweet About Me
Don't You Want Me
Girls On Film
Gold
Billie Jean
St. Elmo's Fire (Man In Motion)
The Power Of Love
Venus
Like A Virgin
Kids In America
Take My Breath Away
Club Tropicana
I Should Be So Lucky
Footloose
Love Shack
I Think We're Alone Now
Walk Like An Egyptian
Fame 18 Faith
Never Gonna Give You Up
Especially For You
Umbrella
The Sweet Escape
Maneater
Rehab
Girlfriend
Don't Cha
Flashdance… What A Feeling
Whenever Wherever
These Boots Are Made For Walkin'
Foundations
Something Kinda Ooooh
9 To 5
Push The Button
Sweet Dreams My LA Ex
Holding Out For A Hero
Since U Been Gone
Young Hearts Run Free
Chain Reaction
Man! I Feel Like A Woman
Son Of A Preacher Man
Don't Stop Me Now
The Boys Are Back In Town
I Bet You Look Good On The Dancefloor
Song 2
How You Remind Me
She Moves In Her Own Way
I Predict A Riot
Don't Look Back In Anger
Disco 2000
Chasing Cars
Teenage Kicks
Sweet Child O' Mine
Should I Stay Or Should I Go
Suspicious Minds
Livin' On A Prayer
I Believe In A Thing Called Love
I'm Gonna Be (500 Miles)
Bat Out Of Hell
I Don't Want To Miss A Thing
Eye Of The Tiger
(Is This The Way To) Amarillo
Sweet Caroline
Delilah
American Pie
Build Me Up Buttercup
I'm A Believer
I Will Survive 8 Islands In The Stream
Summer Nights
The Best
Dancing Queen
Come On Eileen
The Final Countdown
Summer Of '69
Always On My Mind
Angels
You'll Never Walk Alone
Mack The Knife
My Way
Bohemian Rhapsody
About this release
100 Classic Karaoke tunes for CD+Graphics for the perfect party!
CD+G1: 'Modern' – Tracks include 'Valerie', 'That's Not My Name' and 'American Boy'
CD+G2; '80s' – Tracks include 'Don't You Wane Me', 'Girls On Film' and 'Club Tropicana'
CD+G3: 'Girls' – Tracks include 'Umbrella', '9 to 5', and 'Son of a Preacher Man'
CD+G4: 'Boys' – Tracks include 'Don't Stop Me Now', Livin' on a Prayer' and 'Sweet Child O' Mine'
CD+G5: 'Classics' – Tracks include 'Delilah', 'Dancing Queen' and 'Come On Eileen'
**For Use In Karaoke Machines Only**
Lyrics displayed only when played through a CD+G player CD+Graphic with on screen lyrics
The audio content of this CD+G is not performed, sung or endorsed by the original artists. The music has been recorded and produced in the style of the artist, in order to represent that version as closely as possible.