100 Hits – Great British Songs
Various Artists
100 Hits – Great British Songs
Various Artists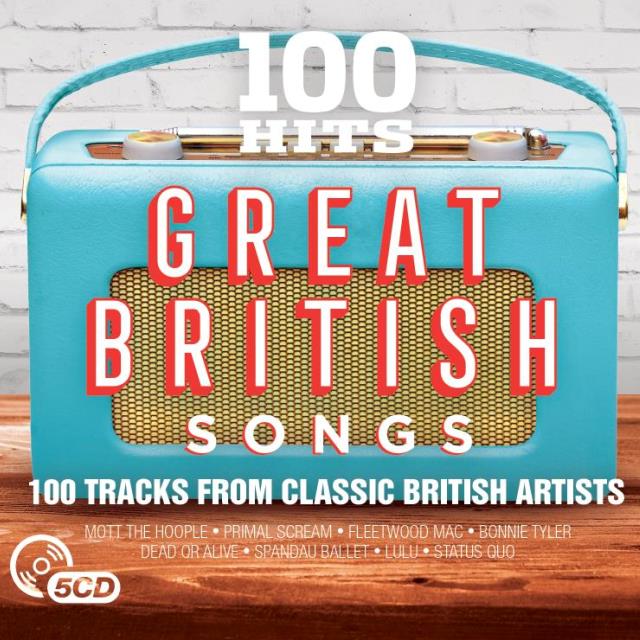 Release information
Release information
Label: 100 Hits
• Format: CD, Digital
• Date: 04/08/2017
Cat#: DMGN100184
• Barcode: 654378718427
• Genre: Pop
Track Listing
Mott The Hoople - All The Young Dudes
Lulu - Watch That Man
Fleetwood Mac - Black Magic Woman
Status Quo - Don't Stop
Argent - God Gave Rock and Roll to You
Chicken Shack - I'd Rather Go Blind
Gun - Race with the Devil
Roachford - Cuddly Toy
Adam & The Ants - Stand And Deliver
Jo Boxers - Boxerbeat
Bow Wow Wow - Go Wild in the Country
The Primitives – Crash
Haircut 100 - Love Plus One
Prefab Sprout - The King of Rock 'N' Roll
Furniture - Brilliant Mind
The Lotus Eaters - The First Picture of You
Deacon Blue – Dignity
Big Audio Dynamite - E=MC2
Secret Affair - Time for Action
Ian Dury - Hit Me With Your Rhythm Stick
Bonnie Tyler - Holding Out for a Hero
Dead Or Alive - That's the Way (I Like It)
Dee C. Lee - See the Day
Fairground Attraction – Perfect
Paul Young - Everytime You Go Away
Nick Heyward - Blue Hat For A Blue Day
Spandau Ballet - Fight for Ourselves
Altered Images - Don't Talk to Me About Love
King - Love & Pride
Five Star - System Addict
Bros - I Owe You Nothing
Lisa Stansfield - All Around the World
Heather Small – Proud
Will Young - Light My Fire
Steps - Better Best Forgotten
PJ & Duncan - Let's Get Ready To Rhumble
Five - If Ya Gettin' Down
Republica - Ready to Go
Sleeper - What Do I Do Now
The Zutons - Why Won't You Give Me Your Love?
Heatwave - Boogie Nights
Average White Band - Pick Up The Pieces
Leo Sayer - Thunder In My Heart
Lulu - The Man With The Golden Gun
Kiki Dee – Star
Edison Lighthouse - Love Grows (Where My Rosemary Gows)
Bay City Rollers - Bye Bye Baby
Sutherland Brothers & Quiver - Arms of Mary
Chas 'n' Dave - Ain't No Pleasing You
Dave Edmunds - Born to Be With You
Nick Heyward - Whistle Down the Wind
Argent - Hold Your Head Up
Fleetwood Mac – Albatross
Mott The Hoople - Roll Away the Stone
Primal Scream – Rocks
Suede – Trash
Spiritualized - I Think I'm In Love
The Lightning Seeds – Change
Groove Armada feat. Gram'ma Funk - I See You Baby (Fatboy Slim Radio Edit)
Faithless - Insomnia
Dead Or Alive - You Spin Me Round (Like a Record)
Spandau Ballet - Through the Barricades
Bonnie Tyler - Total Eclipse of the Heart
Paul Young - Everything Must Change
Prefab Sprout - When Love Breaks Down
Five Star - Rain or Shine
Fiction Factory - (Feels Like) Heaven
Altered Images - I Could Be Happy
S'Express - Theme from "S'Express"
Bomb The Bass - Winter in July
Bros - Drop the Boy
Fairground Attraction feat. Eddi Reader - Find My Love
Deacon Blue - Real Gone Kid
Haircut 100 - Favourite Shirts (Boy Meets Girl)
Jo Boxers - Just Got Lucky
Adam & The Ants – Antmusic
Bow Wow Wow - I Want Candy
Sad Café - Every Day Hurts
Dave Edmunds - Baby I Love You
Heatwave - Mind Blowing Decisions
Primal Scream - Country Girl
Toploader - Dancing in the Moonlight
Reef - Place Your Hands
The Zutons - Valerie
Republica - Drop Dead Gorgeous
Suede - Animal Nitrate
Sleeper - Sale of the Century
The Lightning Seeds - Lucky You
Spiritualized - Stop Your Crying
Leftfield – Original
Groove Armada - Superstylin'
Faithless - God Is a DJ
Kosheen - Hide U
Olive - You're Not Alone
Alexandra Burke - Broken Heels
Five - Keep on Movin'
JLS - Beat Again
Chipmunk - Oopsy Daisy
Steps - One for Sorrow
Lisa Stansfield - Change
About this release
Great British Songs brings you the Essential Tracks from Classic British Artists
The biggest hits from Mott The Hoople, Primal Scream, Fleetwood Mac, Bonnie Tyler, Dead Or Alive and Many More.
Recommended titles